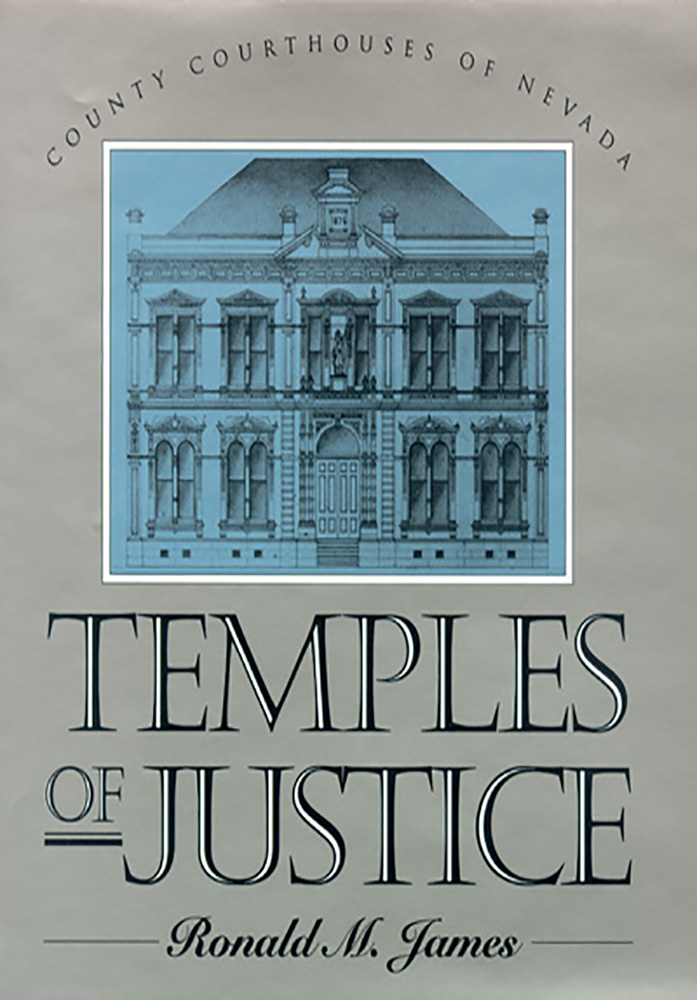 Temples Of JusticeCounty Courthouses Of Nevada$34.95
Author:
Ronald M. James
Format: Cloth
Pages: 216
ISBN: 9780874172393
Published Date: 1994
From Storey County's High Victorian Italianate-styled courthouse to Lander County's former schoolhouse, now a Neo-classical courthouse, Temples of Justice provides an architectural history of the courthouses of Nevada. In Nevada's first published architectural history, Temples of Justice treats the state's buildings as a series of documents from the past. Presented collectively the courthouses illustrate the choices and influences that have affected Nevada's communities as the citizens have sought to project an image of themselves and their aspirations through public architecture. The courthouses are important local public facilities, and they provide an excellent opportunity to understand the history of attitudes and tastes in the state. 
Author Bio
Ron James is the Nevada State Historic Preservation Officer; he has administered the agency since 1983. He served on the Comstock Historic District Commission for 17 years. In 1991, James organized the Commission for Cultural Affairs and has since administered the distribution of nearly $30 million in grants from that agency, supporting the rehabilitation of historic buildings to serve as cultural centers. Those facilities now serve over a half million visitors annually.
James is the author of five books and serves as adjunct faculty at the University of Nevada, Reno. He is a historian and folklorist, with degrees in both fields from the University of Nevada, Reno. He was the nation's I.T.T. Fellow to Ireland in 1981-1982, where he studied folklore at the national archives. James's publications have appeared in Europe and North America, and he has given hundreds of presentations throughout the nation. He is a co-founder of the Comstock Archaeology Center and has participated in several excavations in Virginia City, artifacts from which have frequently appeared on national television. He is a member of the Advisory Board for the National Park System, and chairman of the National Historic Landmark Committee.
Reviews
"Temples of Justice is a notable contribution to the history of the development of western communities, and to the architectural progress and importance of public buildings in the West." —Lynn C. Stutz, Western Legal History, Winter/Spring 1996

 
"The book is appealingly written. While a study of this type could easily make for dull reading, James breathes life and color into the subject through clear, precise, descriptive and interesting language." —Candace C. Kant
 
"Temples of Justice not only provides an architectural history of Nevada's county courthouses, but clearly demonstrates the value of using public buildings as historic documents. As important public facilities, Nevada's courthouses provide an excellent opportunity to understand the history of attitudes and tastes in the state." —Northeastern Nevada Historical Society Quarterly
 
"In Temples of Justice Ronald James makes the point that we have returned to caves in many of our public buildings when once they spoke to the world about the high ideals they stood for. No wonder the restoration of public buildings is so desirable today. James is a first-rate preservationist on the cutting edge of a burgeoning national interest in public architecture." —William Seale, author of The President's House