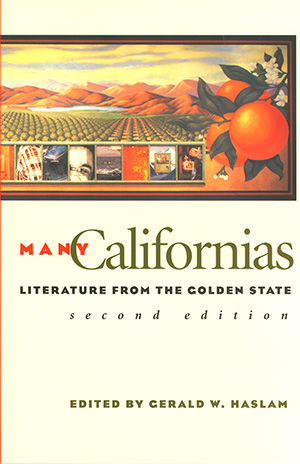 Many CaliforniasLiterature from the Golden State$34.95
Editor:
Gerald W. Haslam
Format: Paper
Pages: 408
ISBN: 9780874173253
Published Date: 2014
Haslam divides the state into five regions, selecting prose and poetry from each that reflects their history, terrain, and culture. Many Califonias features sixty-seven authors ranging from Jack London to Maxine Hong Kingston, making it the most diverse general-interest anthology available.
Author Bio
Gerald W. Haslam, the author of Straight White Male and other award-winning titles, is professor emeritus of English at Sonoma State University. He lives in Northern California.
Reviews
Many Californias lives up to the promise of its title, united writers from various ethnic, historic, regional, and philosophical corners of the state." —San Francisco Chronicle
 
"A comprehensive look at the works—and writers—that contribute to [California's] lush literary landscape." —Oakland Tribune
 
"The whole book is in essence a sampler of the humanity within the state . . . Thanks to writer and anthologist Gerald Haslam, [our stories] have been recognized and are being told." —California English