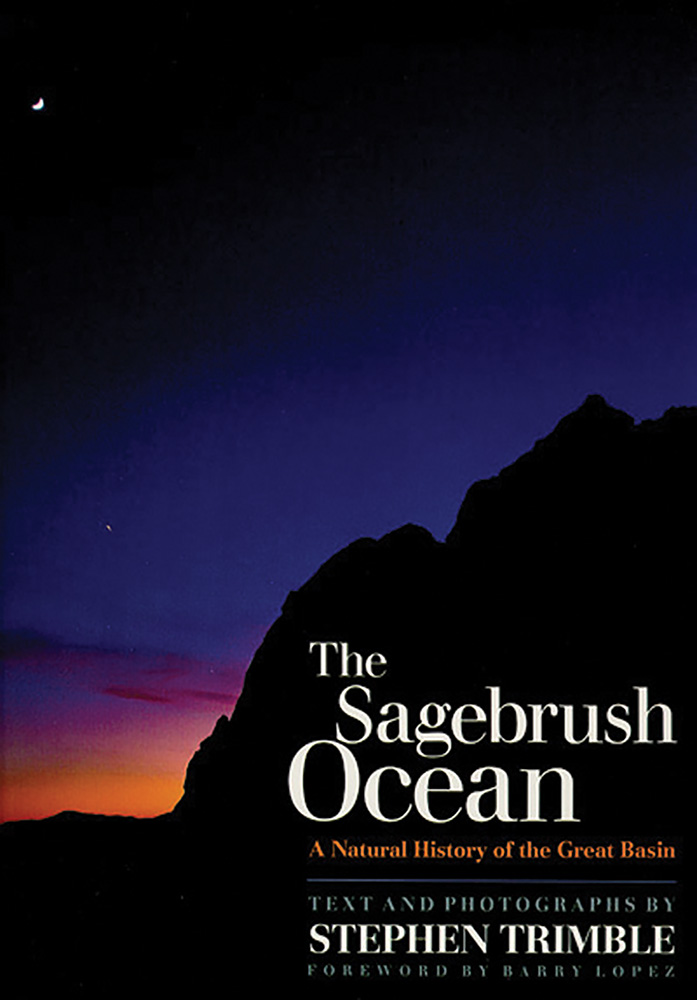 Sagebrush Ocean, Tenth Anniversary EditionA Natural History Of The Great Basin$39.95
Author:
Stephen Trimble
Format: Cloth
Pages: 296
ISBN: 9780874173437
Published Date: 1999
Noted writer and photographer Stephen Trimble mixes eloquent accounts of personal experiences with clear explication of natural history. His photographs capture some of the most spectacular but least-known scenery in the western states. The Great Basin Desert sweeps from the Sierra to the Rockies, from the Snake River Plain to the Mojave Desert. "Biogeography" would be one way to sum up Trimble's focus on the land: what lives where, and why. He introduces concepts of desert ecology and discusses living communities of animals and plants that band Great Basin mountains—from the exhilarating emptiness of dry lake-beds to alpine regions at the summits of the 13,000-foot Basin ranges.
This is the best general introduction to the ecology and spirit of the Great Basin, a place where "the desert almost seems to mirror the sky in size," where mountains hold "ravens, bristlecone pines, winter stillness—and unseen, but satisfying, the possibility of bighorn sheep." Trimble's photographs come from the backcountry of this rugged land, from months of exploring and hiking the Great Basin wilderness in all seasons; and his well-chosen words come from a rare intimacy with the West.
Author Bio
Stephen Trimble was born in Denver, his family's base for roaming the West with his geologist father. After a liberal arts education at Colorado College, he worked as a park ranger in Colorado and Utah, earned a master's degree in ecology at the University of Arizona, served as director of the Museum of Northern Arizona Press, and for five years lived near Santa Fe, New Mexico. He has been a full-time free-lance writer and photographer since 1981.
Reviews
"The Sagebrush Ocean is one beauty of a book, a triumph of regional literature of the kind we need, to relate more closely to his land of ours." —Harold Gilliam, The San Francisco Chronicle
"This seemingly harsh, but actually beautiful—and fragile—landscape cannot even be seen, much less appreciated, at seventy miles per hour. You have to dismount your Ford and investigate it on foot. If you cannot do so, Trimble's survey is the next best thing. His writing style is first-person informal (almost conversational), but informed." —Richard Dillon, True West
"Books as well written, well researched, and nicely photographed as this one are a rare commodity in the expanding literary genre of Western natural history. What Stephen Trimble and the University of Nevada Press have combined to produce here is a single package that fits well in all these categories." —Dan Flores, Department of History, University of Montana, Missoula