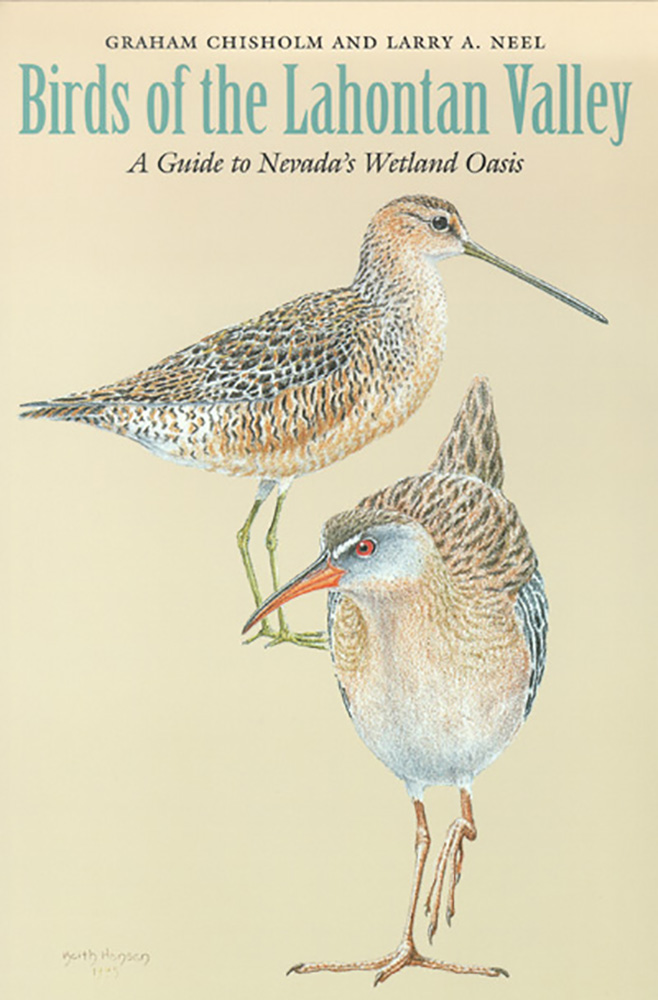 Birds Of The Lahontan ValleyA Guide To Nevada'S Wetland Oasis$21.95
Author:
Graham Chisholm
Author:
Larry A. Neel
Format: Paper
Pages: 256
ISBN: 9780874174793
Published Date: 2001
Deep in the expanse of the Great Basin desert, in one of the warmest and driest basins in northern Nevada, lies a wetland oasis that is home to more than 290 species of resident and migratory birds. The Lahontan Valley wetlands, including Stillwater Marsh and Carson Lake, contain the remnants of a Pleistocene lake that once covered much of western and northern Nevada. Birds of the Lahontan Valleyis a major contribution to the study of natural history in the Great Basin. Authors Graham Chisholm and Larry A. Neel provide a comprehensive discussion of the geologic history of the area; the intricate relationships between climate, soil, vegetation, and local fauna; and the impact of humankind, from the ancient Paiute people to the farmers and ranchers of today. The book's greatest significance, however, lies in its detailed account of the bird species sighted in the Lahontan Valley. Enhanced by 56 line drawings by ornithological artist Mimi Hoppe Wolf, maps, color photographs of habitats and their related bird species, and directions to bird-viewing sites, this work is an essential resource for birders, naturalists, conservationists, and anyone interested in the outdoors.
Author Bio
A birder since childhood, Graham Chisholm now lives in Berkeley, California, with his family and is the director of conservation for Audubon California. In his role as cofounder and first director for the Great Basin Bird Observatory (GBBO), Chisholm helped build the partnerships to get the Atlas of the Breeding Birds of Nevada under way. Previously Graham served as an aide in the U.S. Senate and worked extensively on land and water conservation issues in the West while serving as director of both the Nevada and California programs for The Nature Conservancy. He coauthored with Larry Neel The Birds of the Lahontan Valley.

Larry A. Neel is a Staff Biologist in the Wildlife Diversity Bureau of the Nevada Department of Wildlife. Neel has been involved in a diverse array of wildlife conservation planning efforts. He served as chief editor of the Nevada Partners in Flight Bird Conservation Plan, and most recently served as project leader for the drafting of the Nevada Wildlife Action Plan, a plan submitted to Congress describing the statewide conservation needs of all wildlife in Nevada.
Reviews
" . . . this is a handsome and useful book, a model for regional bird studies." -Faultline
"If you bird the Great Basin, or are contemplating doing so in the future, you should own Birds of the Lahontan Valley. Well-written, informative, and authoritative, it is a book you will consult time and again as you explore the area's surprising wetlands." -Western Birds
"For bird-watching residents of the state, this book is a must. It is also indispensable for visitors and collectors of distributional information. It is seductive as well. If you are one of those bird watchers who has always thought of Nevada as the state you cross quickly going to or from California, it is likely to cause you to detour." -Bird Watcher's Digest