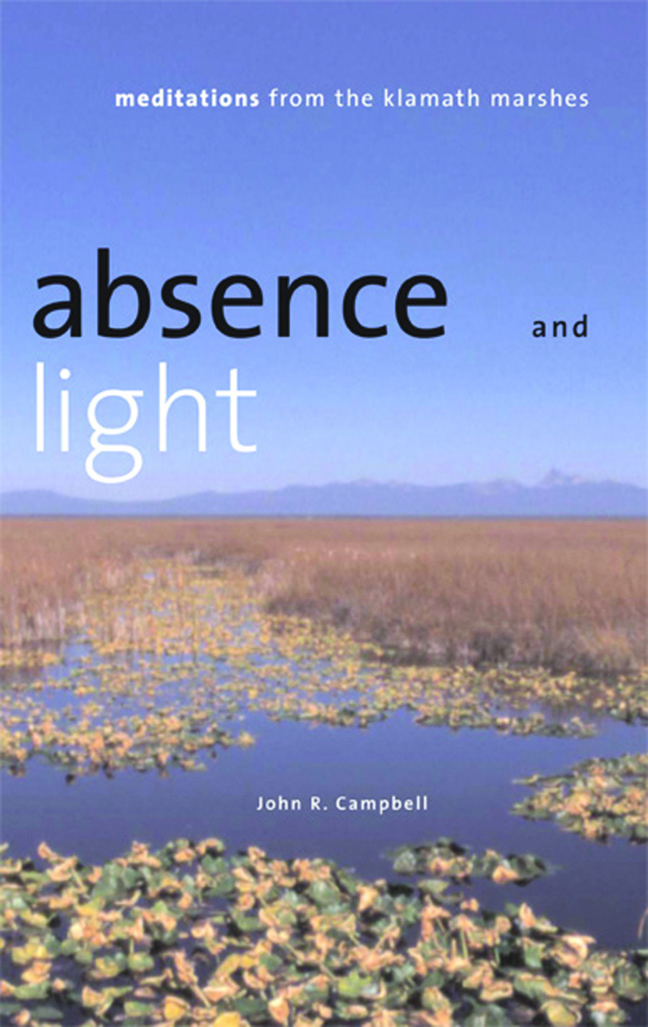 Absence And LightMeditations From The Klamath Marshes$21.95
Author:
John R. Campbell
Format: Cloth
Pages: 152
ISBN: 9780874174960
Published Date: 2002
"In order to accept the enormous responsibility that comes of being in the world, we must first conceive, in spite of all the obstacles, the state of actually being the world." It is for this reason that John R. Campbell came to the Klamath marshes, a wetland in southern Oregon formed by three ancient, shallow lakes.
Absence and Light is Campbell's account of his exploration of the marshes and a meditation on the world he found there, on his growing understanding of the physical, emotional, moral, and aesthetic meaning of that world, on his own growth as a man. Through Campbell's eyes, we observe the stirring and astonishing beauty of the marshes and their creatures, and the utter poignancy of their fragility before the heedless ambitions of humankind.
This is nature writing at its most profound and moving, writing that in examining and defining the world of nature helps us to understand the very complicated and contradictory realities of being human. Campbell's luminous descriptions and mystical insights will long linger in the reader's memory.
Author Bio
John R. Campbell's poems and essays have appeared in numerous magazine and journals including Poetry, The Georgia Review, The Threepenny Review, and Sewanee Review. He has worked as a ranch-hand, tree planter, migrant camp teacher, railroad worker, high school teacher, poetry editor, and, most recently, university instructor. He currently lives in Salt Lake City.
Reviews
"Absence and Light is at once a heartfelt, poetic work of nature writing and an eloquent discourse about how humankind must rethink certain beliefs in order to slow the Earth's destruction."
—
The Oregonian
"In the best tradition of natural history writing, [Campbell's] powers of description are marvelous.... A book of great spirit, both poignant and full of life."
—
The Bloomsbury Review
"A collection of meditations that can be read as might any poetry collection gathered under one theme: as a whole, in related sections, or as individual pieces. The prose is careful, beautifully descriptive, and thoroughly engaging."
—The Georgia Review