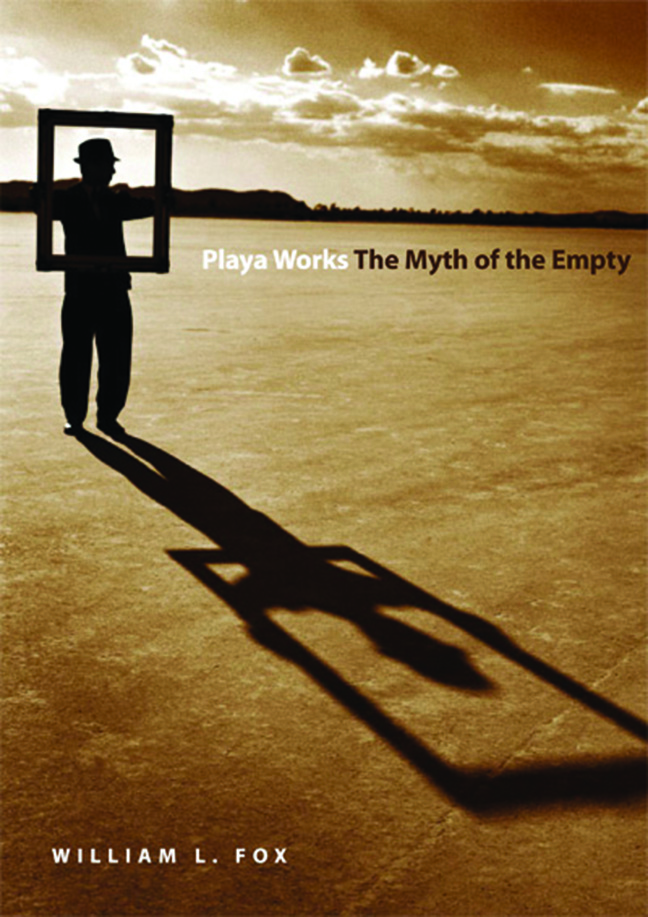 Playa WorksThe Myth Of The Empty$24.95
Author:
William L. Fox
Format: Cloth
Pages: 240
ISBN: 9780874175233
Published Date: 2002
In eight brilliant essays, Fox explores many of the major playas of the American West , examining locations as diverse as Nellis Air Force Base and Frenchman Flat, where the federal government has tested experimental aircraft and atomic weaponry; the Great Salt Lake Desert, where land-speed records have been broken; and the Black Rock Desert of Northern Nevada, site of the colorful Burning Man arts festival. He analyzes the geological and climatological conditions that created the playas and the historical role that playas played in the exploration and settlement of the West. And he offers lucid and keenly perceptive discussions of the ways that artists have responded to the playas, from the ancient makers of geoglyphs to the work of contemporary artists who have found inspiration in these enigmatic spaces, including earthworks builder Michael Heizer, photographer Richard Misrach, and painter Michael Moore. The ensemble is a compelling combination of natural history, philosophy, and art criticism, a thoughtful meditation on humankind's aversion to and fascination with the void.
Author Bio
Bill Fox remains stubbornly outside the ability of critics to label him. An independent scholar, a cultural geographer, an essayist, a poet, a travel writer, Fox consistently brings together unexpected fields of knowledge in order to illuminate the subjects at hand. He has been an arts consultant, curator, and visiting scholar at the Getty Research Institute. He has written widely on the nature of deserts and the role of the arts in American culture. He is the author of numerous articles and books; his work on cognition and the landscape includes time in the Antarctic as a visiting writer with the National Science Foundation and work in the Arctic with NASA on the Haughton-Mars Project. He lives in Burbank.
Reviews
"If we are to increasingly inhabit the deserts of the world, we must better understand them, author William L. Fox argues. Fox takes readers on a literary odyssey that integrates scholarship and personal narrative in a rich exploration of the natural and unnatural histories of dry lakes. Fox is a master of writing technical information in a manner that makes matters clear and engaging for a non-technical reader in Playa Works: The Myth of the Empty. Fox tours the playas of California, Nevada, and Utah with artists and scientists, military personnel and defense contractors, piecing together the story of how we perceive the intimidating blank pages of the desert and inscribe our culture upon them." —Encore: Sierra Arts Monthly, November 2002
 
"Fox's prose was lovely to read, clean and delicate, his paragraphs well-balanced with information and narrative. He has a rare sensitivity to beauty, meaning, and language. His approach is soulful, his thinking solid and expansive, as hard and wide as the desert floor." —Elizabeth White, Southwestern American Literature
 
"William L. Fox's new book is the most extraordinary and complex book yet written about the Big Empty, its myth and reality, and the works of art that it has spawned, full of the ironies of history and mysterious draw of its landscape. A playa lover's dream, a dreamer's vision in words, sculpture, and photographs, underlaid by fine scholarship and exuberance. All in all, a superb book that belongs in the library of everyone who loves the dry spans of the West." —Ann Zwinger, author of The Mysterious Lands: A Naturalist Explores the Four Great Deserts of the Southwest