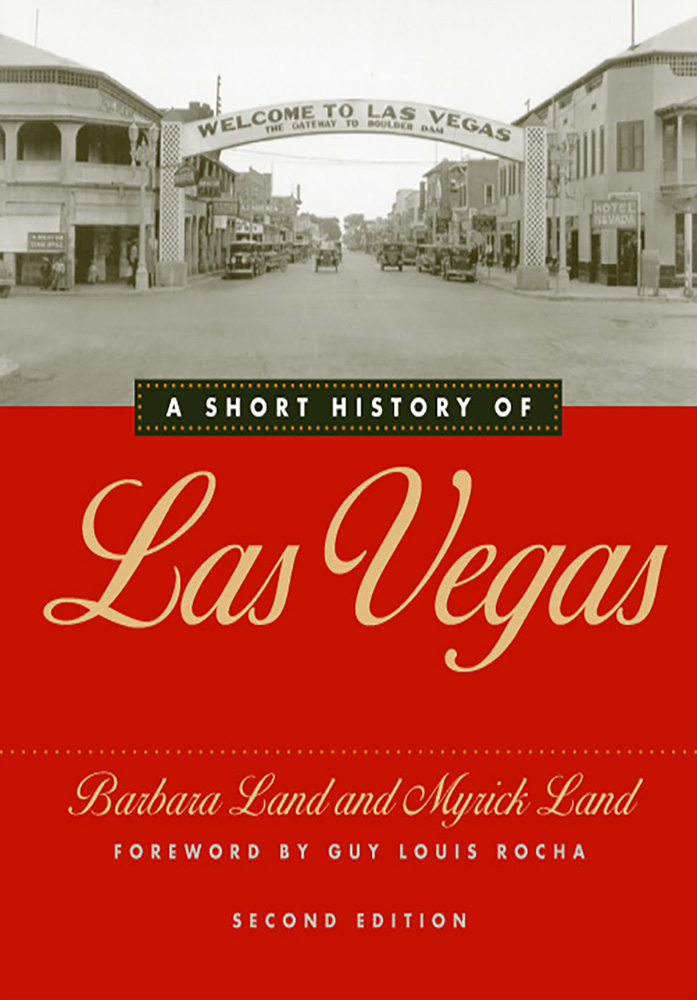 Short History of Las Vegas$21.95
Author:
Barbara Land
Author:
Myrick Land
Foreword:
Guy Louis Rocha
Format: Paper
Pages: 296
ISBN: 9780874175646
Published Date: 2004
Today's Las Vegas welcomes 35 million visitors a year and reigns as the world's premier gaming mecca. But it is much more than a gambling paradise. In A Short History of Las Vegas, Barbara and Myrick Land reveal a fascinating history beyond the mobsters, casinos, and showgirls. The authors present a complete story, beginning with southern Nevada's indigenous peoples and the earliest explorers to the first pioneers to settle in the area; from the importance of the railroad and the construction of Hoover Dam to the arrival of the Mob after World War II; from the first isolated resorts to appear in the dusty desert to the upscale, extravagant theme resorts of today. Las Vegas—and its history—is full of surprises. The second edition of this lively history includes details of the latest developments and describes the growing anticipation surrounding the Las Vegas centennial celebration in 2005. New chapters focus on the recent implosions of famous old structures and the construction of glamorous new developments, headline-making mergers and multibillion-dollar deals involving famous Strip properties, and a concluding look at what life is like for the nearly two million residents who call Las Vegas home.
Author Bio
Barbara Land
earned a B.A. from the University of Miami and a M.A. from Columbia University. She worked as a reporter for the
Miami Herald
from 1940-1947, then moved to New York City to work as a reporter for
Life
magazine in 1948
.
  A year later she began working in advertising for Cunningham & Walsh, Inc., before becoming a fashion reporter for the
New York Times
in 1955. She has written nonfiction books for children and adults. Land was inducted into the Nevada Writer's Hall of Fame in 1996 along with her husband and literary collaborator Myrick Land, who died in 1998. She lives in Reno.
Myrick Land (1922-1998) served in the Army Air Corps during World War II, then graduated from the University of California at Los Angeles in 1945. He received a master's degree from Columbia University in 1946.  During the 1960s and early '70s, he was senior editor and assistant managing editor of Look magazine in New York.  Land came to Reno in 1976 as an assistant journalism professor in the Reynolds School of Journalism at the University of Nevada, Reno retiring in 1993.  He was inducted into the Nevada Writer's Hall of Fame in 1996, along with his wife and literary collaborator, Barbara Land.
Reviews

"This book is a concise overview threading stories and captivating facts about the watering hole that became a world destination." —Las Vegas Review-Journal
"This book is an excellent short history of a fascinating town." —Southwest BookViews