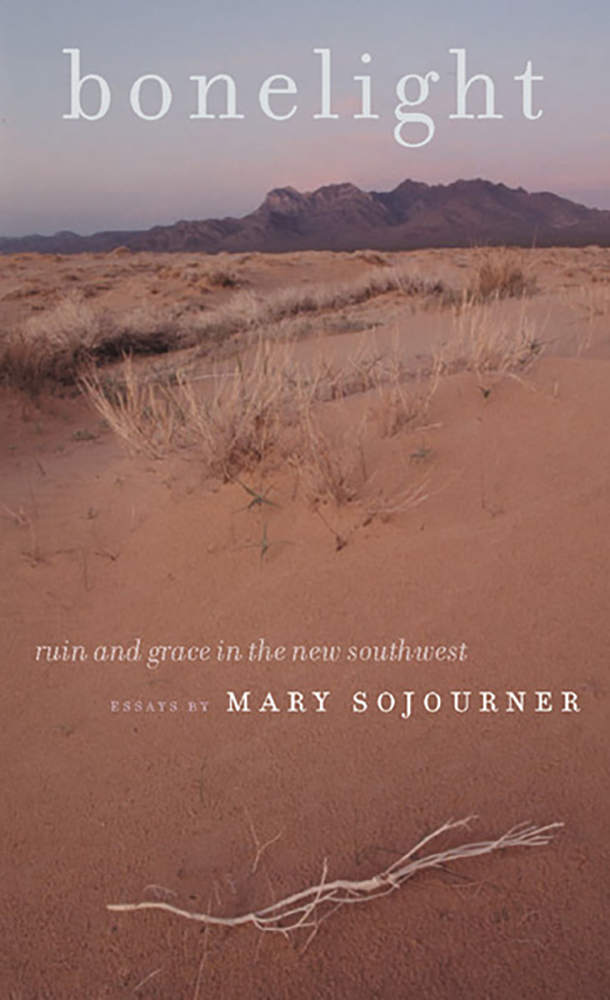 BonelightRuin And Grace In The New Southwest$12.95
Author:
Mary Sojourner
Format: Paper
Pages: 184
ISBN: 9780874175844
Published Date: 2004
When upstate New Yorker Mary Sojourner reluctantly agreed to visit the Grand Canyon of Arizona, she little suspected that she was about to lose her heart to the beauty of the Southwest, or that she would shortly find a passion for the land, and a cause in protecting it. She has since gained notoriety as an environmental writer and as a grass-roots activist protesting the heedless development of the Southwest's increasingly precious and embattled open spaces. The essays collected here reflect Sojourner's journey from greenhorn to old-timer, from tourist to committed defender of the land and the human communities that share it. She writes of exploring the deserts, forests, mountains, and river rapids of the Southwest, and of her love for this austere and ravishing landscape; of family, friends, and lovers; of the ways that development is destroying the Southwest's fragile beauty; and of the greed and spiritual emptiness that motivate much of this development. There is humor here, and adventure, and the intensity of a writer who confronts the world around her with bold candor and a lover's tender gaze.
Author Bio
Mary Sojourner is a fiction writer, columnist, activist, and National Public Radio commentator. She is the author of six books and is a dedicated defender of the environment. She currently writes and lives in Flagstaff, AZ.
Reviews
"Mary Sojourner is a fiery activist, and her passion is contagious." -The Women's Review of Books

"…filled with apt and achingly beautiful descriptions of the land." -Flagstaff Live
"On every page we see the harsh, bone-chilling, ghost-ridden splendor of the American West. And at every turn we find sudden joy in the glimmering magnificence of the written word." -Montana, The Magazine of Western History


"This thorny and admirable book faces the mandatory question that hangs in the air of every Western mountain town: How do you live a responsible life out here? If you have ever tried to save a chunk of the West, you will be grateful for this book. If bulldozers have chewed up your favorite mountain while you did nothing, it may, as they say, change your life." -Mountain Gazette