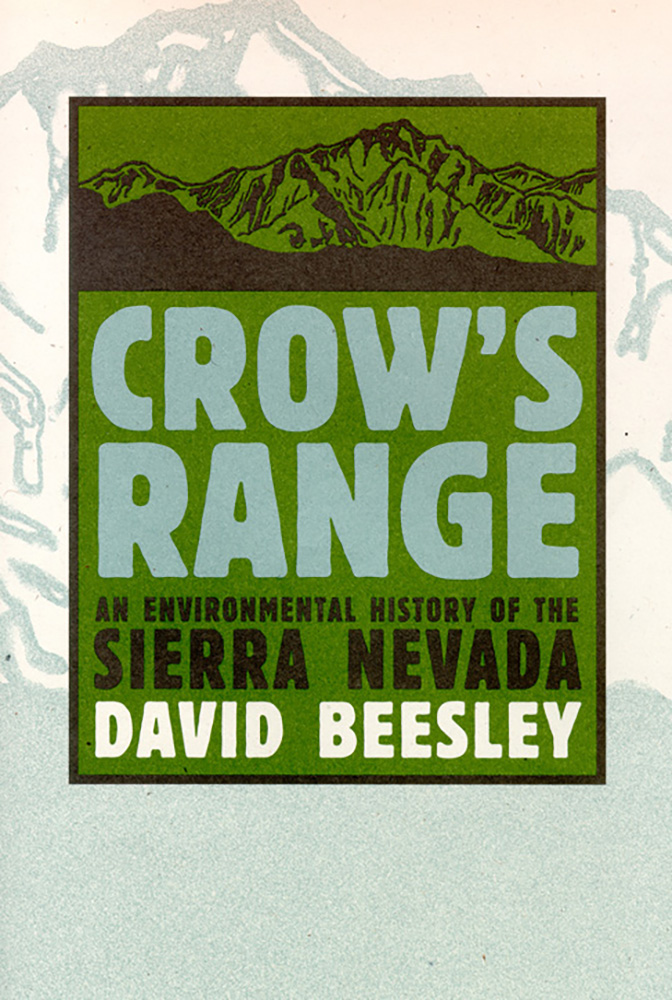 Crow's RangeAn Environmental History Of The Sierra Nevada$34.95
Author:
David Beesley
Format: Paper
Pages: 464
ISBN: 9780874177022
Published Date: 2007
John Muir called it the "Range of Light, the most divinely beautiful of all the mountain chains I've ever seen." The Sierra Nevada—a single unbroken mountain range stretching north to south over four hundred miles, best understood as a single ecosystem but embracing a number of environmental communities—has been the site of human activity for millennia. From the efforts of ancient Native Americans to encourage game animals by burning brush to create meadows to the burgeoning resort and residential development of the present, the Sierra has endured, and often suffered from, the efforts of humans to exploit its bountiful resources for their own benefit. Historian David Beesley examines the history of the Sierra Nevada from earliest times, beginning with a comprehensive discussion of the geologic development of the range and its various ecological communities. Using a wide range of sources, including the records of explorers and early settlers, scientific and government documents, and newspaper reports, Beesley offers a lively and informed account of the history, environmental challenges, and political controversies that lie behind the breathtaking scenery of the Sierra. Among the highlights are discussions of the impact of the Gold Rush and later mining efforts, as well as the supporting industries that mining spawned, including logging, grazing, water-resource development, market hunting, urbanization, and transportation; the politics and emotions surrounding the establishment of Yosemite and other state and national parks; the transformation of the Hetch Hetchy into a reservoir and the desertification of the once-lush Owens Valley; the roles of the Forest Service, Park Service, and other regulatory agencies; the consequences of the fateful commitment to wildfire suppression in Sierran forests; and the ever-growing impact of tourism and recreational use. Through Beesley's wide-ranging discussion, John Muir's "divinely beautiful" range is revealed in all its natural and economic complexity, a place that at the beginning of the twenty-first century is in grave danger of being loved to death. Available in hardcover and paperback.
Author Bio
David Beesley is professor emeritus of history at Sierra Nevada College in Rocklin, California.
Reviews
"This should be required reading for all park and forest managers, interpreters and rangers . . . in the West." —Barbara Rohde, Park Interpreter, Nevada State Parks
 
"Beesley has succeeded admirably in presenting a solid summary of humanity's use of the Sierra Nevada, providing in effect a 'hiking guide' for those of us who wish to delve deeper into the sagas and controversies of our long relationship with 'Crow's Range.' He has certainly re-awakened my personal commitment to the Sierras." —Ken Pirie, terrain.org