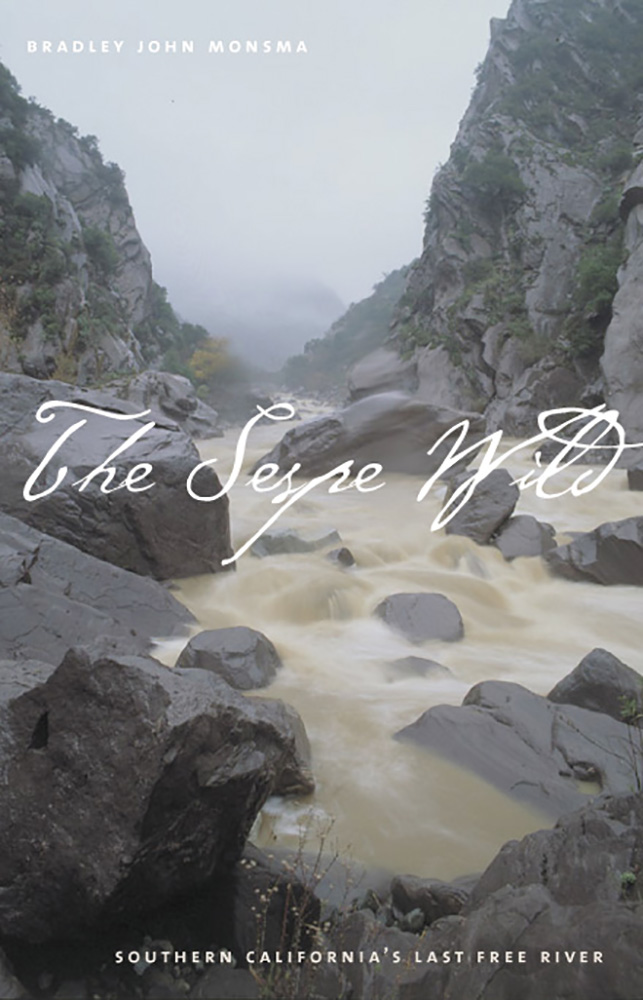 Sespe WildSouthern California'S Last Free River$18.95
Author:
Bradley John Monsma
Format: Paper
Pages: 176
ISBN: 9780874177046
Published Date: 2007
A hundred miles northwest of Los Angeles, Sespe Creek flows through some of the wildest territory in California. A mostly roadless expanse of chaparral and mixed forest, in many places nearly inaccessible even on foot, the Sespe is the untamed heart of Southern California, a wilderness on the edge of one of the world's major metropolitan developments. To nature writer and outdoorsman John Bradley Monsma, the Sespe is both his place of escape and the place "that teaches me to be fully alive." In The Sespe Wild, Monsma shares his exploration of this unique and fantastic region. His attention ranges from the physical Sespe, examined on foot or by kayak, to the subsurface geology that shaped it, the Chumash people who first occupied it, and the impact of Spanish and then American settlers. He also considers the Sespe through the eyes of some of its nonhuman populations—the nearly extinct condors, the vanished grizzlies, the mountain sheep, the steelhead trout, the red-legged frogs. Through the metaphor of the river, he ponders the tensions between preservation and overmanagement of wildlife and wilderness areas, the ecology of fire, the intricate connections between species, and the almost miraculous ways that the Sespe has escaped the fate of other Southern California streams, dammed or carved up into canals by development. "To consider this place," Monsma says, "is to call up issues crucial wherever wilderness and cities meet: recreational impacts on wildlife habitat, the dynamics of accessibility and protection, the physical and psychological need for healthy ecosystems, threats of development and resource extraction." Monsma's engaging text addresses the Sespe's losses and its ongoing pattern of creation and renewal, leading us through rich layers of natural and cultural history in a narrative as colorful and exciting as a day on a Sespe trail. The Sespe, existing at the intersection of ecological processes and human ideals of wilderness, reminds us that nature and culture have always intermingled, and that the past and present, animal and human, "natural" and "unnatural" are ultimately and irrevocably inseparable.
Author Bio
Bradley John Monsma is professor of English and interdisciplinary studies at California State University, Channel Islands, where he teaches courses on natural history and nature writing. His essays and articles have appeared in several literary and scholarly journals. An ardent backpacker and whitewater kayaker, he has explored wild places and rivers throughout the western United States and Canada.
Reviews
"Every river deserves an interpreter, an advocate, and a poet. Sespe Creek now has all of these, thanks to Bradley Monsma's insight, persuasion, and literary grace. His exquisite narrative reveals why this place is so important to all of us, and why the choices we make are important to the fate of all that is wild." —Tim Palmer, author of California Wild
 
"A deeply appreciative, penetrating yet unpretentious saunter through the surprising wilderness that Los Angeles had the good luck not to devour. Monsma's elegant sentences and love for the Sespe bring his portrait to life." —David James Duncan, author of My Life as Told by Water
"The Sespe Wild partly fills what has been a void: serious nature writing about the Sespe. Don't look for it to guide you to particular locations. Don't look to it for a detailed history of the last 15 years of conservation battles. Look to it as a book to enhance your sense of wonder at nature's magnificence in a place called the Sespe." —Alasdair Coyne, Southern Sierran, April 2005
 
"What sets the author aside from other environmental writers is that he finds the perfect balance between poetry and information." —Joshua Chase , Las Vegas City Life, 9 March 2005
 
". . . 176 pages of brilliant ponderings and up-to-date reporting, a beautiful blend between Thoreau-esque nature writing and straight, accurate environmental journalism." —Matt Kettmann, Santa Barbara Independent, 2 September 2004

"The book embraces the region's contrasts and conflicts and the intersection of unlikely partners—the metropolitan expanse of the greater Los Angeles area with the untamed wilderness of the Sespe backcountry. As the author records his own passage between these two worlds, it becomes clear that a contemporary, holistic view of wilderness must similarly encompass such extremes…. The author's attempt to view the land from these multiple perspectives is precisely what makes the book such a delightful and informative read." —Alison Preston, ISLE 13.2, Summer 2006