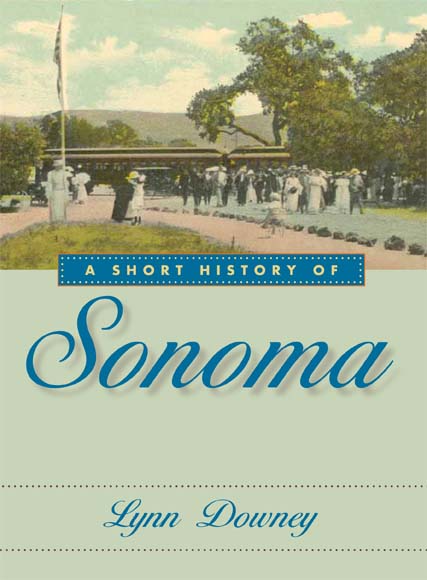 Short History of Sonoma$21.95
Author:
Lynn Downey
Format: Paper
Pages: 176
ISBN: 9780874179125
Published Date: 2013
Sonoma is one of Northern California's most desirable places to live and a popular tourist destination, combining small-town charm, a colorful past, and its current role as the hub of one of the world's premier wine-producing regions. A Short History of Sonoma traces its past from the Native American peoples who first inhabited the valley, proceeding through the establishment of a mission by Spanish priests, the Bear Flag Revolt that began California's movement to become part of the United States, the foundation of what would become a celebrated wine industry, and its role today as the center of a sophisticated and highly envied food and wine culture.

The book also addresses such topics as the development of local ranching and businesses and of transportation links to San Francisco that helped to make Sonoma and the surrounding Valley of the Moon a popular location for summer homes and resorts. It discusses the role of the nearby hot springs in attracting visitors and permanent residents, including people seeking cures for various ailments. There are also accounts of some of the famous people who lived in or near Sonoma and helped establish its mystique, including Mexican general Mariano Vallejo, the town's first leader; Hungarian winemaker Agoston Haraszthy, who first saw the region's potential for producing superior wines; and writers Jack London and M. F. K. Fisher, who made their homes in the Valley of the Moon, drawn by its beauty and bucolic lifestyle.

A Short History of Sonoma is generously illustrated with vintage photographs. It is a delightful account of one of America's most charming towns and its evolution from rowdy frontier settlement to the paragon of sophisticated living that it is today.
Author Bio
Lynn Downey is a widely published historian of the West and a fifth-generation resident of Sonoma. 
Reviews
"Lynn Downey brings to life the unique stories of Sonoma Valley's history." -- Diane Moll Smith, director of the Depot Park Museum and the Sonoma Valley Historical Society  
"This is a superbly written general history. I cannot think of a better introduction to the town's history. It was a joy to read."  -- Gary F. Kurutz, special collections librarian emeritus, California State Library, Sacramento  
"This is the first book about Sonoma to distill the major events and significant people associated with the area into one accessible volume. Downey has a strong narrative voice that effortlessly guides the reader through decades of information." -- Richard Moreno, author of A Short History of Carson City