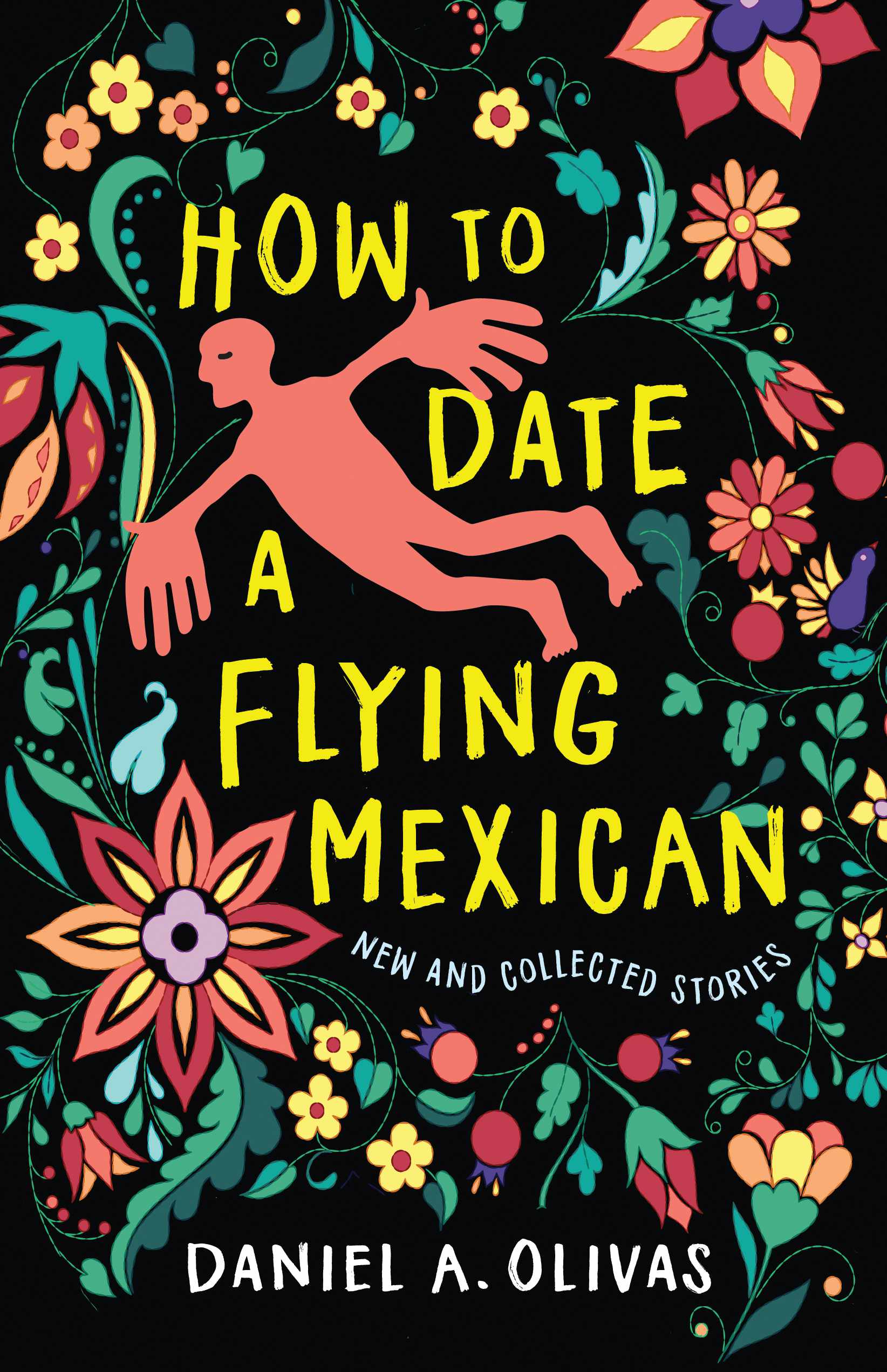 How to Date a Flying MexicanNew and Collected Stories$22.00
Author:
Daniel A. Olivas
Format: Paper
Pages: 224
ISBN: 9781647790363
Published Date: 2022
How to Date a Flying Mexican is a collection of stories derived from Chicano and Mexican culture but ranging through fascinating literary worlds of magical realism, fairy tales, fables, and dystopian futures. The characters confront—both directly and obliquely—questions of morality, justice, and self-determination.

The collection is made up of Daniel A. Olivas's favorite previously published stories, along with two new stories—one dystopian and the other mythical—that challenge the Trump administration's anti-immigration rhetoric and policies. Readers will encounter a world filled with both the magical and the quotidian: a man with twelve fingers who finds himself on a mystical date with a woman, God who appears in the form of a scrawny chicken, a woman who bravely fights back against her abuser, and Aztec gods searching for relevance after the Spanish conquest—just to name a few of the unforgettable characters populating these pages. The book draws together some of Olivas's most unforgettable and strange tales, allowing readers to experience his very distinct, and very Chicano, fiction.

 
Author Bio
Daniel A. Olivas, the grandson of Mexican immigrants, was born and raised near downtown Los Angeles. He is an award-winning author of fiction, nonfiction, plays, and poetry. Widely anthologized, Olivas has written on culture and literature for The New York Times, Los Angeles Review of Books, BOMB, Jewish Journal, High Country News, and The Guardian. By day, Olivas is an attorney and makes his home in Southern California.

 
Reviews
"How to Date a Flying Mexican is a beautifully realized work that comes out of the depths of the Mexican and Mexican American cultural experience."
—Michael Nava, Los Angeles Review of Books

"A skilled, creative, entertaining and thought-provoking writer who has impressively mastered the short story format, Daniel A. Olivas' new anthology, How to Date a Flying Mexican: New and Collected Stories, will prove to be a welcome addition to community, college, and university library Hispanic-American Literature collections." —Midwest Book Review

"Daniel Olivas' stories are going to stick with us for quite awhile. Empathetic, touching, intelligent, fierce, and poetic." —Writer's Bone

"Prompted by tragedy—the death of his father and the pandemic—Olivas revisits decades of writing to produce this collection of new and previously published stories. Olivas's work is surreal, dystopian, critical, and introspective, ultimately moving into contemporary political rhetoric."
—Alta Journal

"Throughout all of his stories, there are strong Chicano characters, who embody tales that range from the laugh-out-loud funny to the heartbreaking. A timely retrospective from an important voice in Latinx literature." —Wendy J. Fox, BuzzFeed 

"His new collection of short fiction . . . is at turns comic and tragic, and perhaps most poignant when it is both. Employing a range of genres and modes including dystopian science fiction, magical realism, and parable, Olivas uses a whimsical hand to tug at deeper truths about identity and society."      —David Nilsen, On the Seawall

"Daniel Olivas loves to tell stories and his writing reflects that joy. Every story is told with a wink and a smile, encouraging you to follow along for the ride. His humor not only brings levity to matters of life, death, and human treachery, but it is also a stylistic choice that Olivas has mastered. These stories aren't so much about the interiority of its characters, but about the mythical, magical mundanity of our lives—Olivas's style perfectly expresses this contradiction."  
—Maceo Montoya, associate professor of Chicano/a Studies, University of California, Davis, and author of Preparatory Notes for Future Masterpieces

"Olivas has the voice of both an ancient and modern storyteller. He is very deft and sure with language. The stories make a significant contribute to the Latinx community and beyond."
—David Kranes, professor emeritus of English, University of Utah, and author of Keno Runner, Abracadabra, and Performance Art: Stories

"From gritty realism to mythic and sci-fi speculative, Olivas dishes up an exquisite feast of short fictions filled to the brim with small and outsized everyday struggles—and failures. Through it all, we feel the mischievous wink and wry smile twinkle of an author whose . . . skills clear new space for us to breathe again in the richness of Latinx ways of life."
—Frederick Luis Aldama, award winning author and Jacob & Frances Sanger Mossiker Chair in the Humanities at University of Texas, Austin 

"This kinetic new collection of stories is exuberant and poignant, filled with the homegrown details of Latinx life as well as a kind of cheerful, saucy magic."
—Yxta Maya Murray, law professor, Loyola Law School and author of The World Doesn't Work that Way, but It Could: Stories