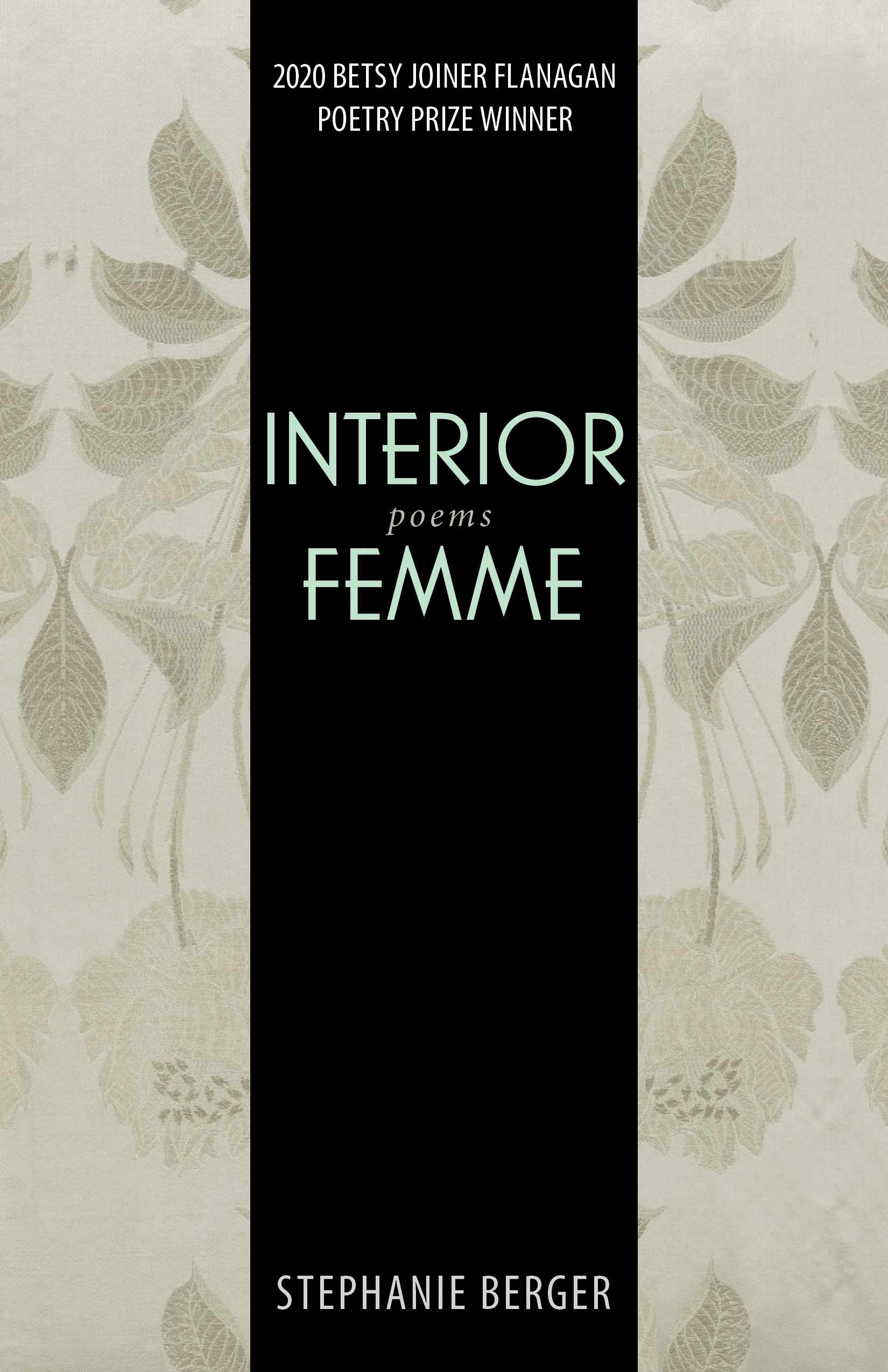 Interior FemmePoems$17.00
Author:
Stephanie Berger
Format: Paper
Pages: 75
ISBN: 9781647790387
Published Date: 2022
In her debut collection, Stephanie Berger cracks the earth open and exposes the "woman inside." In a sequence of poems that present variations on the Western feminine archetype, Interior Femme visits many unique locales, from cemeteries in Brooklyn to canyons in New Mexico to churches in San Diego, Paris, and Peru. Berger approaches her subjects—mothers, goddesses, whores, daughters, muses, and movie stars—from multiple angles, and through her poems she reveals historical, personal, social, environmental, and artistic viewpoints.

The poems offer layered perspectives fused with multiple versions of female representation, as if to underscore the burden of responsibility, inherited shame, and awesome power that comes with the position women have occupied throughout history. Berger reveals a woman critically wounded—representing the totality of the Western feminine imaginary. Lyrically complex, sometimes surreal, and often ekphrastic in style and content, Interior Femme simultaneously offers heartbreak, laughter, comfort, and empowerment.
 
Author Bio
Stephanie Berger is a poet, performer, experience designer, community organizer, and entrepreneur. She earned her bachelor's degree in philosophy at the University of Southern California, received an MFA in poetry from the New School, and taught writing and film in the Department of English at Pace University. Berger is the founder and CEO of The Poetry Society of New York. Her writing has appeared in numerous publications, including The New York Times and The New Yorker.
Reviews
"Interior Femme is a tour de force of sorrow and celebration, where readers will find a timely reminder of the terms we find ourselves in, here in our bodies and on this planet, circa 2021. Berger has written an astonishing first book—a must read!"
—Claudia Keelan, professor of English, University of Nevada, Las Vegas, editor of Interim, and author of eight collections of poetry, including We Step into the Sea
 
"In her stunning debut collection, Stephanie Berger reminds us that because we are human, we are poetry. In all our beautiful bruisings, within the meadow-shacks of our hearts, and with our souls split into seven whores—sacred whores, of course. Diving into this delicious book, "you'll remember: we/are human,/we rhyme." 
—Sharon Mesmer, professor of creative writing, NYU and the New School, and author of Greetings from My Girlie Leisure Place