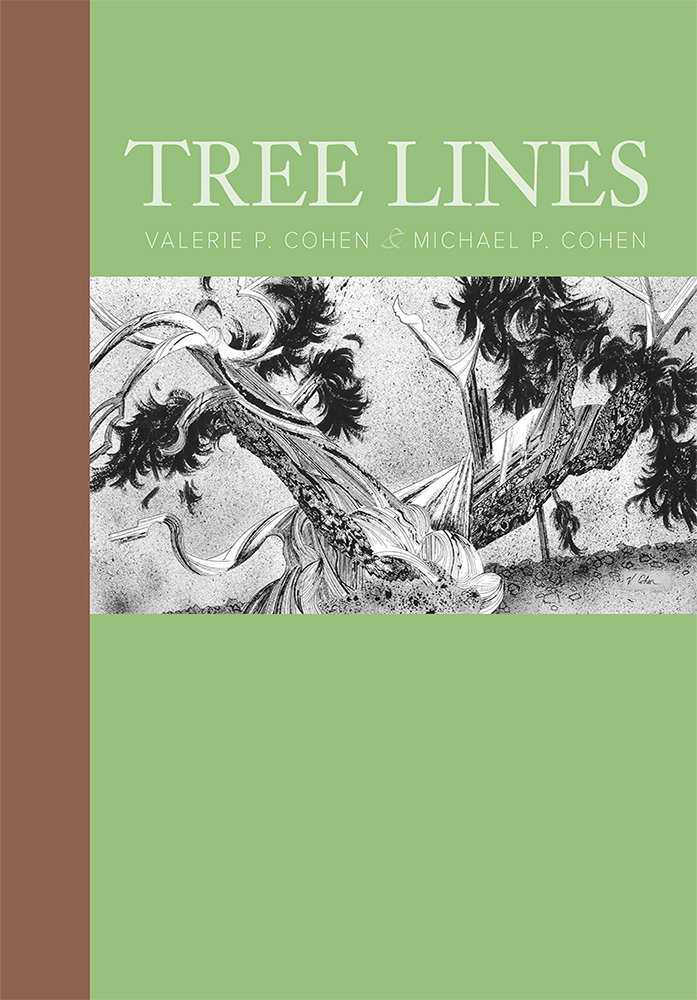 Tree Lines$29.95
Author:
Valerie P Cohen
Author:
Michael P. Cohen
Format: Paper
Pages: 80
ISBN: 9781943859085
Published Date: 2017
Tree Lines unites striking ink drawings of high-altitude pine trees with poetic vignettes about how people interact with mountain environments. The drawings and text work together to form a direct artistic encounter with timberline conifers. The husband and wife team of Valerie and Michael Cohen employ a unique process whereby she draws in isolation, gives him her drawings, and he then writes whatever he's inspired to create. Neither offers the other any kind of feedback or instruction. The result is an accessible and deeply engaging work that is also extremely well researched; the Cohens bring a lifetime of scholarship in literature, history, and the environment to this work.

The drawings are black-and-white, pen-and-ink representations of high alpine ecosystems. The prose is stripped bare, abbreviated in an epigrammatic style that is poetic and spontaneous. Trees represented here are the Western Juniper or Sierra Juniper, the Limber, and the Bristlecone Pine—three species of long-lived, slow-growing conifers that grow across the Great Basin. While they represent only a small portion of the vegetative culture high in the western mountains, the Cohens use representation as abstraction as is utilized by writers and artists to convey a unique kind of microcosm of our natural environment. This book compares to such classics as Leopold's A Sand County Almanac, and Berger's Ways of Seeing, which open up lines of observation, analysis, and art for a new generation of readers. 
 
Author Bio
Valerie P. Cohen and Michael P. Cohen have been collaborating for decades on a number of books, including A Garden of Bristlecones, a finalist for the Western States Book Award. They split their time between June Lake, CA and Reno, NV. 
Reviews
"Swirls of black ink, intersected and framed by ruler-straight lines, create an intricately rendered abstraction of the grain of a bristlecone pine. Tree Lines explores the long lives of the high-altitude conifers of the dry eastern slopes of the Sierra Nevada and the Great Basin. Each of the 28 drawings by Valerie Cohen collected here is accompanied by a vignette written by her husband, Michael Cohen. The Cohens often walk through the trees together, but each of them works in isolation, without any criticism or coaching. The end result is a harmonious juxtaposition of two different ways of interpreting the complex relationship between humans, the alpine environment and the tough old conifers that dwell there. 'To see them now or even to walk among them seems to create them,' Michael writes. 'But this is not true. The trees say where to go'." —High Country News
"This truly unique and powerful book is the culmination of a lifetime of close observation, scholarship, and artistry. This is a significant contribution to the literature, not just of California, Nevada, and the Great Basin, but to the world, and particularly to the crucial intersection of art, humanities, science, and the environment." ―Jon Christensen, Institute of the Environment and Sustainability, UCLA​