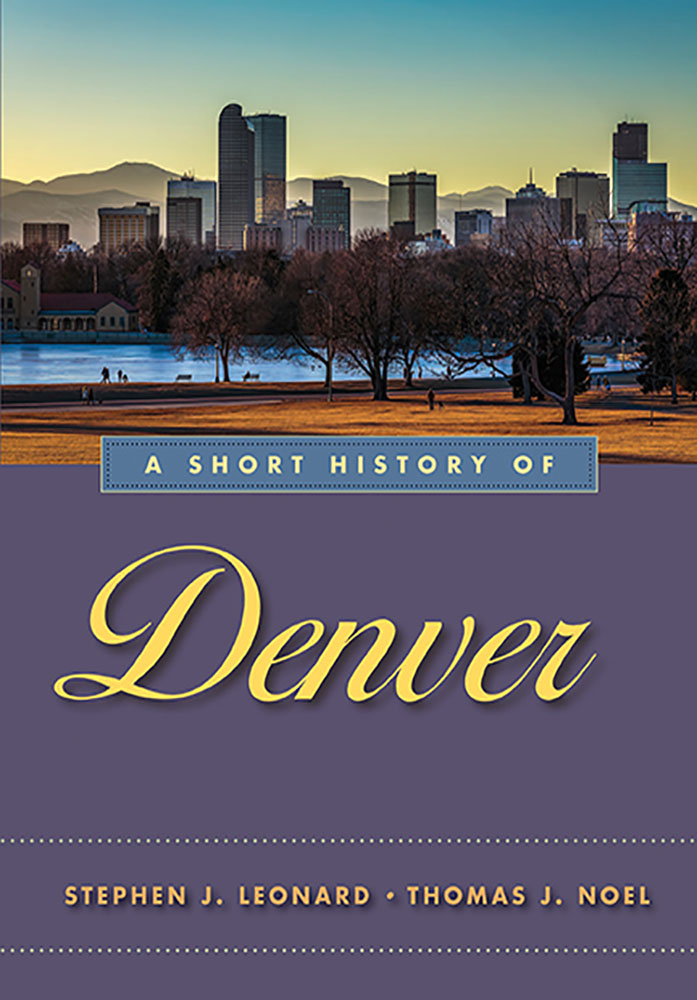 Short History of Denver$21.95
Author:
Stephen J. Leonard
Author:
Thomas J. Noel
Format: Paper
Pages: 228
ISBN: 9781943859191
Published Date: 2016
A Short History of Denver covers more than 150 years of Denver's rich history. The book recounts the takeover of Native American lands, the founding of small towns on the South Platte River at the base of the Rocky Mountains, and the creation of a city, which by 1890 was among the nation's major western urban centers. Leonard and Noel tell the stories of powerful economic and political leaders such as John Evans, Horace Tabor, and David Moffat, and delve into the contributions of women, including Elizabeth Byers and Margaret (Molly) Brown. The book also recognizes the importance of the city's ethnic communities, including African Americans, Asians, Latinos, and many others.
 
A Short History of Denver portrays the city's twentieth-century ups and downs, including the City Beautiful movement, political corruption, the rise of the Ku Klux Klan in the 1920s, and the Great Depression of the 1930s. Here readers will find the meat and potatoes of economic and political history and much more, including sports history, social history, and the history of metropolitan-wide efforts to preserve the past.
 
Author Bio
Stephen J. Leonard, a third-generation Denverite, received his PhD from the Claremont Graduate School. Since 1966 he has taught in the History Department at Metropolitan State University of Denver. He has authored or co-authored half a dozen books on Colorado and Denver.
 
Thomas J. Noel is a Professor of History and Director of Public History, Preservation & Colorado Studies at the University of Colorado, Denver. He appears regularly on the NBC affiliate, Channel 9, in Denver as Dr. Colorado, and leads walking tours of Denver cemeteries, churches, historic districts, railways, and saloons. Noel is the author or coauthor of forty-seven books, many articles, and a Sunday history column for the Denver Post.
 
Reviews
"Full of colorful characters, lively stories, and the authors' characteristic good humor, A Short History of Denver is a wonderfully readable overview of the city's rich past. Newcomers and old-timers alike will find here a wealth of knowledge to enrich their understanding of this place." —William Philpott, author of Vacationland: Tourism and Environment in the Colorado High Country