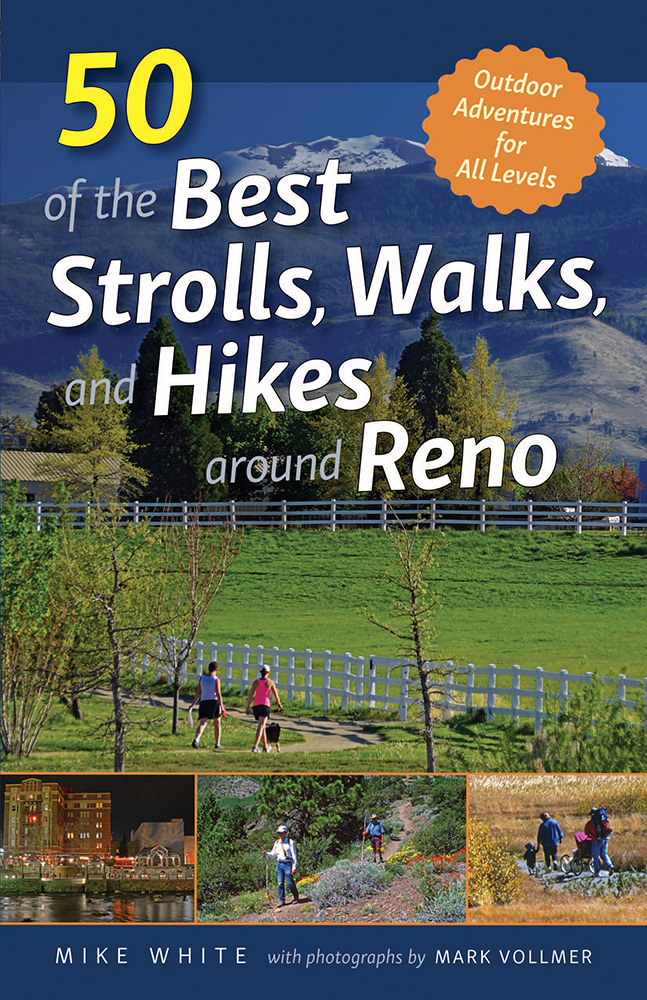 50 of the Best Strolls, Walks, and Hikes around Reno$21.95
Author:
Mike White
Author:
Mark Vollmer
Format: Paper
Pages: 272
ISBN: 9781943859306
Published Date: 2017
Reno, Nevada is one of the best communities in the nation for outdoor recreational opportunities. With over three hundred days of sunshine a year, the weather beckons residents and visitors alike to step outside and enjoy a casual stroll in a city park, a stiff climb to the top of one of the area's surrounding mountains, or just about anything in between. White offers the most complete guide for walkers, joggers, runners, and hikers to the best paths and trails in the greater Reno-Sparks region.
This guide provides readers the most complete and detailed information for each excursion, from the Truckee River corridor to the Northern Valleys, including lakes, parks, trails, and mountains. Whether you are looking for a short and easy stroll on a paved path along one of the city's greenbelts, or an extended hike into the mountains of the Mount Rose wilderness, this is your all-inclusive resource. White is one of the area's foremost experts on the outdoors, and he includes interesting sidebars about human and natural history for each trip. This is a guide for anyone who enjoys a stroll, walk, or hike in and around Northern Nevada's premier outdoor playgrounds.
Author Bio
Mike White is a full-time writer and former community college instructor. He is a featured speaker for outdoor and conservation organizations. He is the author of numerous outdoor hiking guides, including 50 Classic Hikes in Nevada and Best Backpacking Trips in California and Nevada.

Mark Vollmer is an award-winning outdoor photographer who has been sharing his images through books, magazines, scenic calendars, gallery exhibits, multimedia slide shows, photo/music DVDs, and class instruction for thirty years. He lives in Sparks, NV.
 
 
Reviews
"This guide is a significant contribution to the hiking guide market for the unusually wide range of hikes, from very, very easy strolls to difficult hikes. White has extensive local knowledge—local history, natural history, trail histories, and current trail projects—along with carefully planned information for families with kids."―Cheryll Glotfelty, Professor of English, University of Nevada, Reno