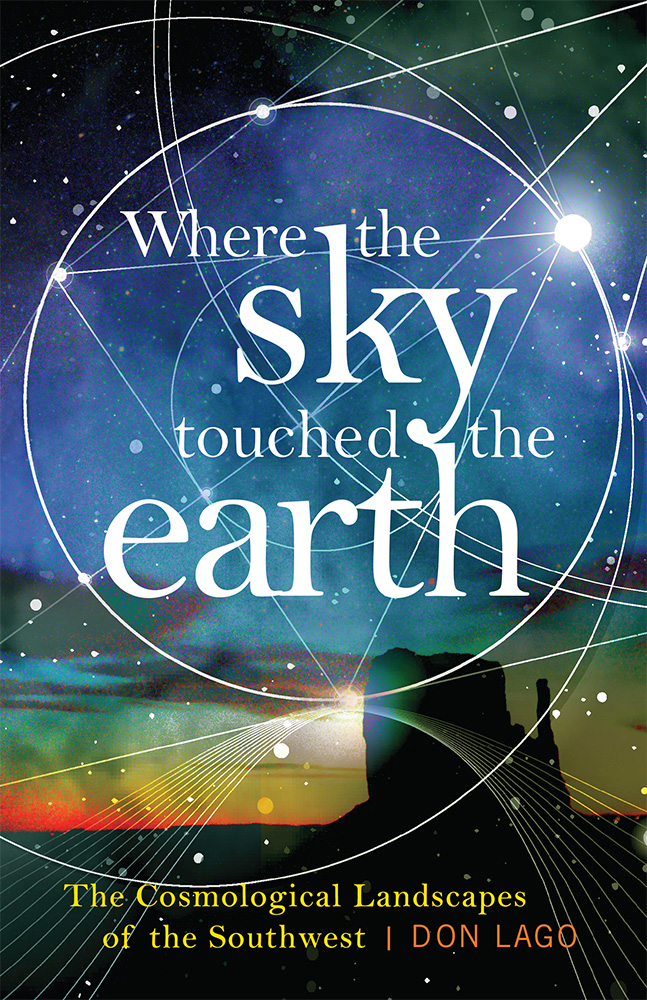 Where the Sky Touched the EarthThe Cosmological Landscapes of the Southwest$24.95
Author:
Don Lago
Format: Paper
Pages: 216
ISBN: 9781943859344
Published Date: 2017
The landscapes of the American Southwest—the Grand Canyon, Monument Valley, the Sedona red rocks—have long filled humans with wonder about nature. This is the home of Lowell Observatory, where astronomers first discovered evidence that the universe is expanding; Meteor Crater, where Apollo astronauts trained for the moon; and Native American tribes with their own ancient, rich ways of relating to the cosmos. With the personal, poetic style of the very best literary nature writing, Don Lago explores how these landscapes have offered humans a deeper sense of connection with the universe. While most nature writing never leaves the ground, Lago is one of the few writers who has applied it to the universe, seeking ties between humans and the astronomical forces that gave us birth.

Nowhere else in the world is the link between earth and sky so powerful. Lago witnesses a solar eclipse over the Grand Canyon, climbs primeval volcanos, and sees the universe in tree rings. Through ageless Native American ceremonies, modern telescopes, and even dreams of flying saucers, Lago, who is not only a poet but a true philosopher of science, strives to find order and meaning in the world and brings out the Southwest's beauty and mystery.
 
 
Author Bio
Don Lago is an award-winning writer who has published more than 50 nature and astronomy essays in national magazines and literary journals. He is the author of ten books, including most recently Grand Canyon: A History of a Natural Wonder and National Park. He lives in Flagstaff, Arizona.
 
Reviews
"This is an unusual book in the distinctive genre of popular science. The author typically begins each chapter with a narrative of the southwestern United States landscape or a description of Native American culture. The narrative then slowly segues into an account of a theme in modern astronomy, which the author uses to enlighten the reader about scientific thought. For example, a story about the Navajo storm pattern rug is woven into Edwin Hubble's 1928 visit to the Grand Canyon while scouting locations for the new Hale telescope (which was eventually placed on Palomar Mountain in California) and then entwines into an account of Albert Einstein's visit to Mount Wilson Observatory in 1930 to discuss Hubble's discovery of the expansion of the universe. This particular chapter is worth rereading just to discover how the author manages to construct these narrative transitions. This reviewer is unaware of other books that resemble this thematic style. For this reason, and the lyrical tone, this book is highly recommended for acquisition in all libraries." —Choice
"Flagstaff author Don Lago sets out to discover how this area also has deeper connections to the cosmos—with essays that deftly and beautifully blend the lyrical and the scientific." —Arizona Daily Sun
"The writing is personal, thoughtful, and emotional, but it is also clear that Lago conducted extensive research on the topics, whether through books and primary sources or simply his own experiences. His love of and appreciation for nature are evident, and his examination of humanity's connection to nature on many different scales is enlightening.  Readers will learn about historical events and people of the Southwest, but they will also come away with a deeper understanding of themselves and their place in the cosmos." —The Journal of Arizona History
"A lovely and necessary exploration of the night sky, the universe, and what it means to encounter the cosmos from the sublime American West. Weaving the personal with the cultural―spanning Native American culture to the latest in astronomy and physics―Where the Sky Touched the Earth is a lyrical and informative book for anyone interested in these subjects. It's a book to set beside the work of other night sky naturalists, from Loren Eiseley to Chet Raymo." —Christopher Cokinos, author of The Fallen Sky: Intimate History of Shooting Stars