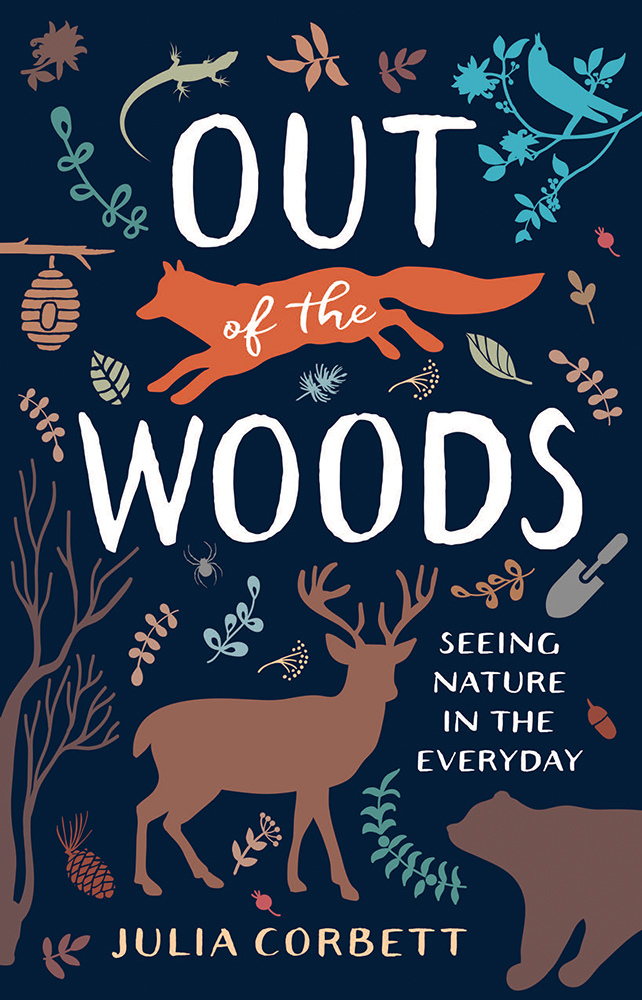 Out of the WoodsSeeing Nature in the Everyday$17.95
Author:
Julia Corbett
Format: Paper
Pages: 232
ISBN: 9781943859870
Published Date: 2018
2018 Reading the West Book Awards Nonfiction Winner

Have you ever wondered about society's desire to cultivate the perfect lawn, why we view some animals as "good" and some as "bad," or even thought about the bits of nature inside everyday items–toothbrushes, cell phones, and coffee mugs?  In this fresh and introspective collection of essays, Julia Corbett examines nature in our lives with all of its ironies and contradictions by seamlessly integrating personal narratives with morsels of highly digestible science and research.  Each story delves into an overlooked aspect of our relationship with nature—insects, garbage, backyards, noise, open doors, animals, and language—and how we cover our tracks.

With a keen sense of irony and humor and an awareness of the miraculous in the mundane, Julia recognizes the contradictions of contemporary life. She confronts the owner of a high-end market who insists on keeping his doors open in all temperatures. Takes us on a trip to a new mall with a replica of a trout stream that once flowed nearby.  The phrase "out of the woods" guides us through layers of meaning to a contemplation of grief, remembrance, and resilience.

Out of the Woods leads to surprising insights into the products, practices, and phrases we take for granted in our everyday encounters with nature and encourages us all to consider how we might re-value or reimagine our relationships with nature in our everyday lives.
Author Bio
Julia Corbett is an award-winning author and professor in the Department of Communication and the Environmental Humanities Graduate Program at the University of Utah, Salt Lake City, Utah. She won the 2018 Reading the West Book Awards for Out of the Woods and her environmental nonfiction essays have been published in venues such as Orion, High Country News, and Camas. Corbett has also served as newspaper reporter, park ranger, naturalist, natural resources information officer, and deputy press secretary. She summers in the mountains of western Wyoming in her cabin.
Reviews
"Throughout this well-crafted, contemplative collection, Corbett writes eloquently about the environmental conundrums she faces..." 
Foreword Reviews
"Julia Corbett's exceptional, eclectic book of essays explores the overlapping worlds of bears and beetles, the mysteries of designing malls and bombing the moon, the wilderness that exists between language and the real. Here is the brave future of nature writing."
Richard Louv, author of The Nature Principle and Last Child in the Woods
"An engaging, accessible, beautifully written celebration of our frayed relationship with the more-than-human world and the animals who are our kin…Julia Corbett explores the richness of nearby nature, reminding us that nurturing our bond with local landscapes is essential to the survival of the natural world and key to our own health and happiness."
—Michael P. Branch, author of Rants from the Hill and Raising Wild
Michael P. Branch, author-Rants from Hill & Raising Wild
Out of the Woods offers a nuanced and inspiring account of what it means to lead an environmentally aware life, discovering small miracles of the natural world in unexpected places but also searching for the truth behind the greenwashing, and trying to do better. Whether it's contemplating an ersatz trout stream at the mall, or getting into a kerfluffle with a local merchant over energy efficiency, these scintillating essays are a tonic for confronting complacency in a time of ecological crisis."
James Barilla, author of My Backyard Jungle
"Out of the Woods ultimately leads us not away from but into our backyards, ever attuning to "the big hum" and our collective contributions to the din, if we take the time to listen and engage with others, human and beyond."
Gretchen Henderson, author of Ugliness
"...smart, funny, and well-written. With a deceptively light touch, Corbett shows us a myriad of small ways out of our modern conundrum of consumerism and waste. Saving the earth and ourselves, she suggests, might simply be a matter of changing our minds about what it means to live with and in nature—and what it means, finally, to be natural creatures ourselves."
New Pages
The book has tremendous value...as a tool for teachers in the environmental humanities, as an excellent example of how personal narrative can be wedded to journalism and scholarship to create a readable, accessible picture of the current planetary environmental situation, and simply as a good read.
ISLE: Interdisciplinary Studies in Literature and Environment
This heartfelt, intelligent, and continuously deepening book is a model of reflective environmental practice, full of insight, wisdom, struggle, and hope.
 
Western American Literature