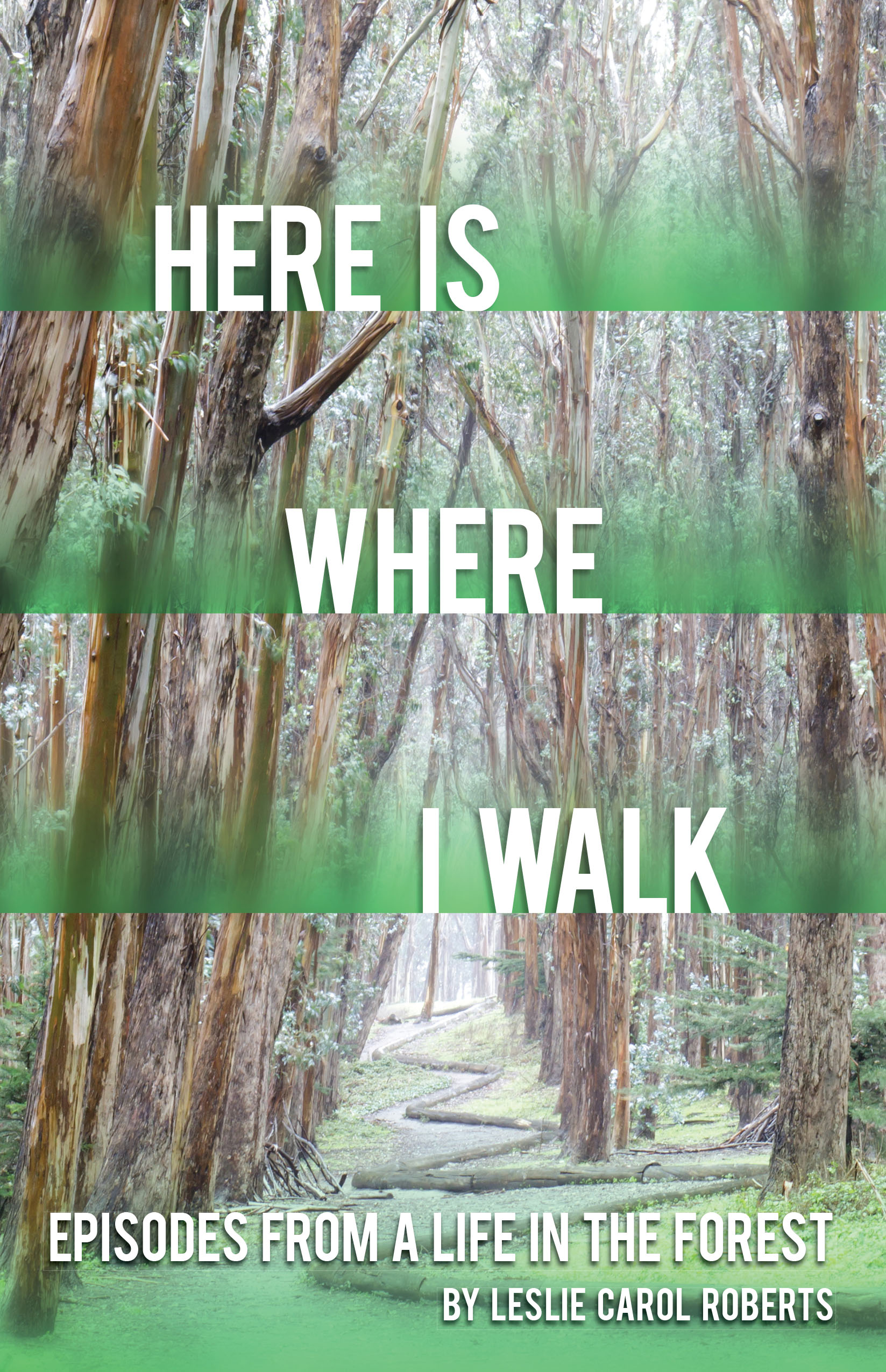 Here is Where I WalkEpisodes From a Life in the Forest$17.95
Author:
Leslie Carol Roberts
Format: Paper
Pages: 200
ISBN: 9781948908078
Published Date: 2019
It is in the Presidio of San Francisco, California, that Leslie Carol Roberts walks. The Presidio, America's only residential national park tucked wholly into an urban setting, is a fading historic forest. Here is where Leslie's memories of other places, people, and travels emerge. Here is where the author's home has been for more than a decade, and here is the place she raised her two children as a single mother.

In layered stories of her life and travels, Leslie turns her daily walks into revelations of deeper meaning. From Maryland to Iowa to Tasmania, we follow a fierce and keenly observant walker through places of exquisite beauty and complexity. Her daily walks inspire Leslie to accept the invitation of the beckoning trees where she finds herself colliding with the urban coyote, the peculiar banana slug, and the manzanita. She also notes both ridiculous and poignant aspects of human ecosystems in pursuit of what it means to live a life of creativity and creation from scientist-activists battling to save environments to the tragic realities of ordinary life.

In this finely crafted eco-memoir, each place provides Leslie with exactly the scaffolding needed to survive, with nature serving as the tonic. Here is Where I Walk provides a vivid answer to how we can find our place, not only in nature but within ourselves and the world we walk.
 
Author Bio
Leslie Carol Roberts is an author, journalist, and essayist. She is also professor and chair of the MFA Writing Program at California College of the Arts in San Francisco, California.
 
Reviews
"A series of absorbing, funny, tragic, and deeply present ruminations…Packed with a scientist's curiosity and an artist's imagination, she uses her walks the way Thoreau encouraged us to treat every journey into nature: as a lesson in how to accept, relish, and even seek out change."
John D'Agata, author of About a Mountain
"This is no ordinary nature book…Rather, it is a profound meditation on the intersection of many different histories, lives, and fates, all of which reveal different facets of a thoroughly engaging literary imagination."
Christopher Merrill, author of Self-Portrait with Dogwood
"These walks with Leslie Carol Roberts—by turns exhilarating, heartbreaking, and informative—are always just what I need. Rambling wide-eyed through these pages, I'm encouraged to come to know the past, present, and future of her backyard and, also, the whole wide world. I thought I knew a lot about the landscapes she describes. I'm delighted, after reading this book, to have learned so much more."
Camille Dungy, author of Guidebook to Relative Strangers: Journeys into Race, Motherhood and History
"Some books teach you how to think, some teach you how to live. Did you know that coyotes are heavy sleepers and can be crept up on, or that a trailblazing female scientist changed our understanding of Northern Californian plant life, at a time when botanical classification was a male-dominated blood-sport? The joy of reading Leslie Roberts' terrific Here is Where I Walk is to have her brain and spirit and poet's command of language, as your companion. I found myself seeing the world differently after finishing this book, asking more questions, and experiencing more of its mysteries and beauty."
Tom Barbash, author of The Dakota Winters
"The book paints a sharp picture of the natural and historical aspects of the Presidio, which acts as platform that inspires broader consideration of the environment.... There is a certain beauty and elegance in Roberts's words and the rhythm and cadence of her writing. All the while, her text exudes a deep love and respect for the world around her. Simply put, Here Is Where I Walk is a breath of fresh air."
Foreword Reviews
"Roberts expertly crafts a narrative both of the places she's traveled and the events that have shaped her own emotional terrain."
Library Journal
… a wonderful combination of scientific thought and poetic expression.
Seattle Book Review