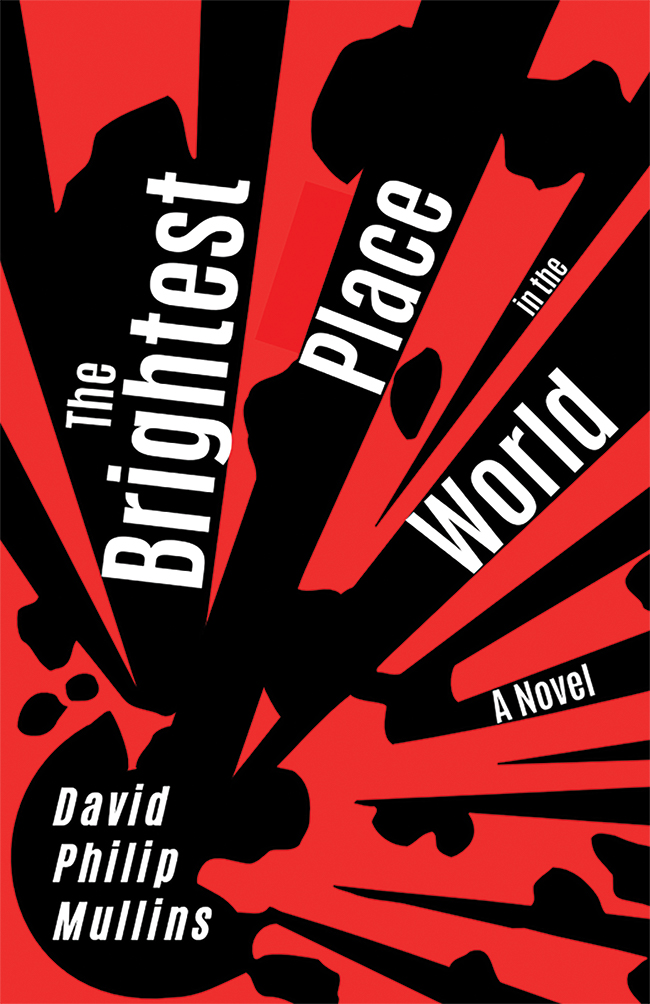 Brightest Place in the WorldA Novel$24.95
Author:
David Philip Mullins
Format: Cloth
Pages: 240
ISBN: 9781948908412
Published Date: 2020
Inspired by true events, The Brightest Place in the World traces the lives of four characters haunted by an industrial disaster. On an ordinary sunny morning in 2012, a series of explosions level a chemical plant on the outskirts of Las Vegas. The shock waves are felt as far away as Fremont Street. Homes and businesses suffer broken windows and caved-in roofs. Hundreds are injured, and eight employees of the plant are unaccounted for, presumed dead.

One of the missing is maintenance technician Andrew Huntley, a husband and father who is an orbital force in the novel as those who loved him grapple with his loss. Andrew's best friend, Russell Martin—an anxiety-plagued bartender who calms his nerves with a steady inflow of weed—misses him more than he might a brother. Meanwhile Emma, Russell's wife—a blackjack dealer at a downtown casino—tries to keep her years-long affair with Andrew hidden. Simon Addison, a manager at the plant who could have saved Andrew's life, is afflicted by daily remorse, combined with a debilitating knowledge of his own cowardice. And then there's Maddie, Andrew's only child, a model high-school student whose response to the tragedy is to experiment with shoplifting and other deviant behavior.

Against the sordid backdrop of Las Vegas—and inspired by the PEPCON disaster of May 4, 1988—this engaging novel is a story of grief and regret, disloyalty and atonement, infatuation and love.


 
 
Author Bio
David Philip Mullins is the author of Greetings from Below and associate professor of English at Creighton University.  He is a graduate of the Iowa Writers' Workshop, and his fiction has appeared in many publications, including in The Yale Review, Ecotone, Cimarron Review, Fiction, and Folio.
Reviews
This is an intimate, small-canvas novel about the aftermath of a tragic explosion—how the resulting chain reactions of grief, remorse, guilt, and memory expose the fragility of human relationships and the illusions and stories we tell ourselves in order to get through our days.
Scott Dickensheets, deputy editor, Nevada Public Radio and co-editor of the "Las Vegas Writes" antho
Every few years a writer comes along to tell us a new story about a place we thought we knew. David Philip Mullins is that writer. Las Vegas is his world. Gone are the glitter and the glamour; revealed are the jarring effects of an industrial disaster in a massive, ever-changing city. Through four compelling characters, Mullins examines the universal themes of family, loss, sex, and the yearning to communicate. Carefully written in beautiful prose, The Brightest Place in the World is a moving and stunning novel from a natural writer.
 
Chris Offutt, author of My Father, the Pornographer and Country Dark
Mullins's sentences shimmer and shine, dazzling the reader like the lights of the Las Vegas Strip. But there's so much beyond the beauty of the writing. As these characters navigate the horrific aftermath of a tragedy, we witness the full spectrum of human strengths and failings. The Brightest Place in the World is an extraordinary novel, full of turns and revelations, of humanity and compassion.
 
Ian Stansel, author of The Last Cowboys of San Geronimo
My life stopped for two days while I read this novel.  The Brightest Place in the World accomplishes what only our best art attempts.  In these pages, David Philip Mullins tracks the vagaries and desires of people we recognize as they deal with the unthinkable: illicit sex, crazy scams, betrayals, loneliness.  This book is a love letter to Las Vegas, the western desert, and, most of all, the mysteries of the human heart.
Charles Bock, New York Times bestselling author of Beautiful Children and Alice & Oliver
A traumatic explosion reverberates beyond the physical in this remarkable debut novel from David Philip Mullins.... Las Vegas itself emerges as a character in this finely wrought and keenly observed story, which shines a brilliant light on the fragile ties that bind us.
Allison Amend, author of A Nearly Perfect Copy and Enchanted Islands
In The Brightest Place in the World, David Philip Mullins deftly incorporates a ferocious chemical plant explosion outside Las Vegas in a narrative about the shocks and emotional resonance of loss, exploring how four expertly delineated characters try to reconstruct their lives in the aftermath. It's a book as intriguing as it is artfully made. 
 
Ron Hansen, author of Mariette in Ecstasy and Atticus
The Brightest Place in the World portrays how tragedy and grief upend us and turn us reckless.  Mullins writes with grace, and with tenderness for his characters.  Through his storytelling, a nuanced and intimate Las Vegas—a town full of both heartache and love—comes alive.
 
Edan Lepucki, New York Times bestselling author of California and Woman No. 17