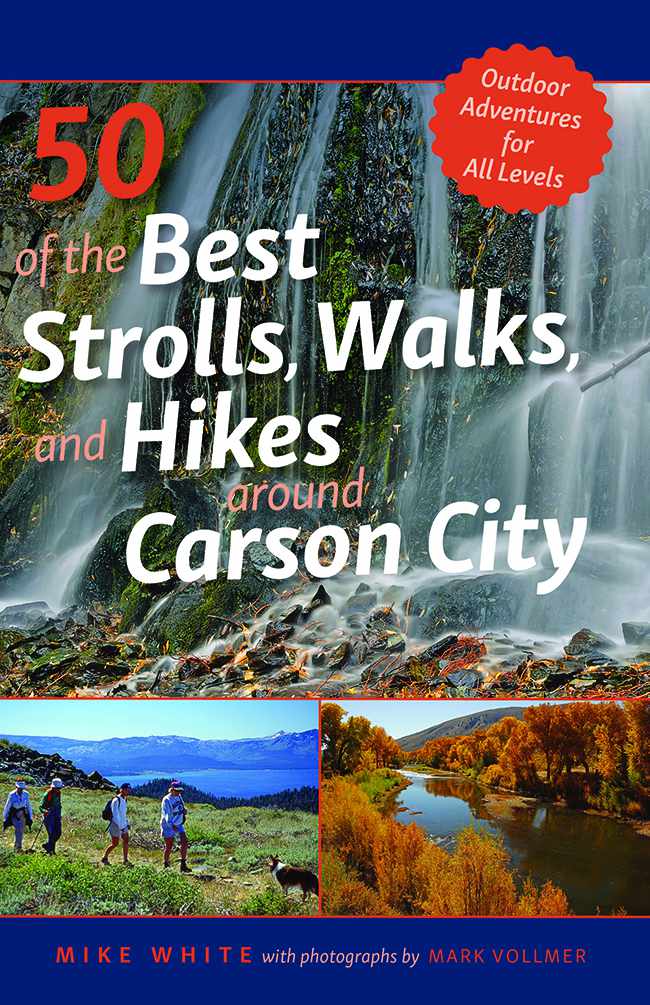 50 of the Best Strolls, Walks, and Hikes Around Carson City$21.95
Author:
Mike White
Author:
Mark Vollmer
Format: Paper
Pages: 272
ISBN: 9781948908665
Published Date: 2020
One of the area's foremost experts on the outdoors, Mike White, author of 50 of the Best Strolls, Walks, and Hikes Around Reno, returns with a new guidebook dedicated to Carson City and its surrounding areas in northern Nevada. With over three hundred days of sunshine a year, this capital city's parks, trails, lakes, and soaring peaks provide the perfect attractions for residents and visitors alike. This guide provides readers with the most precise information for a wide range of detailed paths and trails throughout the greater Carson City region and includes interesting sidebars about human and natural history for each trip.

From Virginia City and the Carson River on the east to the Sierra Nevada mountains to the west, this comprehensive guidebook offers the most complete guide for walkers, joggers, and hikers. Whether you are looking for a short and easy stroll on a city path or an extended hike along the Tahoe Rim Trail, this is your all-inclusive resource for your next outdoor adventure.
 
Author Bio
Mike White is an award-winning author whose books include 50 of the Best Strolls, Walks, and Hikes around Reno, 50 of the Best Snowshoe Trails around Lake Tahoe, 50 Classic Hikes in Nevada, Best Backpacking Trips in California and Nevada, and Best Backpacking Trips in Utah, Arizona and New Mexico.
 
Mark Vollmer is an award-winning outdoor photographer, instructor and freelance writer based in Sparks, Nevada. His illustrated feature articles have appeared in Nevada Magazine, and his images have been widely published in regional books, calendars, and brochures.

 
Reviews
This is a much-needed addition to the list of available guides to hiking in northern Nevada. With its detailed and useful directions, current information on trail conditions, explanations about the region's natural history, birds, plants, and animals, and other insights, it is an invaluable resource for anyone interested in exploring the Carson City-Washoe Valley area.
Richard Moreno, author of A Short History of Carson City