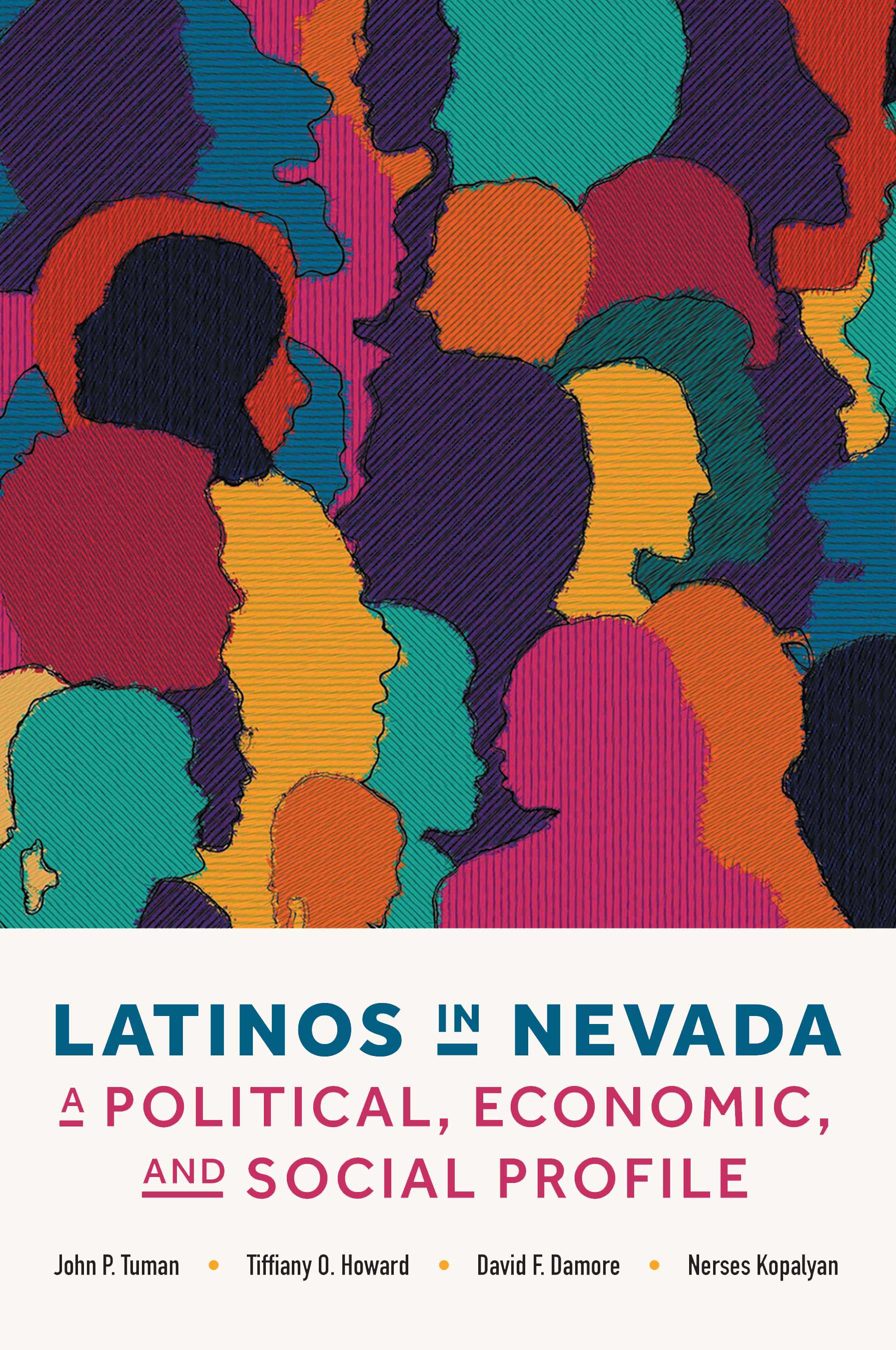 Latinos in NevadaA Political, Economic, and Social Profile$34.95
Author:
John P. Tuman
Author:
Tiffiany O Howard
Author:
Nerses Kopalyan
Author:
David F. Damore
Format: Paper
Pages: 196
ISBN: 9781948908986
Published Date: 2021
Throughout history, the Latinx population has contributed substantially to Nevada's mining, railroad, farming, ranching, and tourism industries. Latinos in Nevada provides a comprehensive analysis of this fastest-growing and diverse ethnic group, exploring the impact of the Hispanic/Latinx population on the Silver State in the past, present, and future.

This extensive study by a distinguished and multidisciplinary team of scholars discusses the impact of the Latinx population from the early development of the state of Nevada and highlights their roles in society, as well as the specific implications of their growing presence in the state. It also contemplates the future of the Latinx population and the role they will continue to play in politics and the economy.

This in-depth examination of a large and relatively understudied population will be of interest to scholars and students who study disparities in health and education opportunities as well as the political and economic climate among Latinos and other groups in Nevada and beyond. A political, economic, and demographic profile, this book:
Explores the history, growth, and diversity of the Latinx population.
Draws on an array of census data, voter surveys, statistics, interviews, and health, education, employment, wages, and immigration statistics.
Evaluates key trends in employment, education, religion, and health.
Analyzes the dynamics of political participation, including implications of a growing Latino political electorate in a western swing state.
Assesses key determinants of health disparities, educational inequities, and civic engagement among Latinos in the state.
Demonstrates the impact of the Great Recession of 2008 and provides a preliminary assessment of the COVID-19 pandemic on Latino employment.
Author Bio
John P. Tuman is an author and specialist on the political economy of Latin America. He is associate dean for faculty, College of Liberal Arts, and a professor of political science at the University of Nevada, Las Vegas.  

Dr. Tiffiany Howard is an author and associate professor of political science at the University of Nevada, Las Vegas. She is the director of the Center for Migration, Demography and Population Studies. 

David F. Damore is an author and professor of political science at the University of Nevada, Las Vegas where he serves as Department Chair. He is a Nonresident Senior Fellow in the Brookings Institution's Governance Study Program and a Senior Analyst with Latino Decisions. 
  
Dr. Nerses Kopalyan is an author and assistant professor-in-residence of political science at the University of Nevada, Las Vegas. His fields of specialization include international relations, geopolitics, and polarity. 
 
Reviews
"A well-defined analysis of baseline data and trends that highlights the social and political role of the fastest-growing minority group in the state projected to approach 30% of the population in 2020." —Dr. Enrique Lamadrid, cultural historian, distinguished professor emeritus of Spanish at the University of New Mexico, and editor Querencias Series, University of New Mexico Press